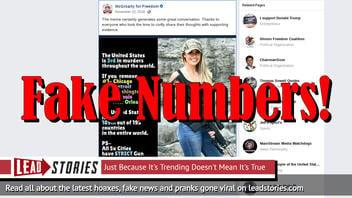 Does the United States rank third in murders throughout the world and would removing the cities of Chicago, Detroit, Washington D.C., St. Louis, and New Orleans from the total make the U.S. 189th out of 193 countries in the world in homicides? No, that's not true: The U.S.has the second highest number of homicides -- behind Brazil -- but the nation's murder rate (the number of homicides for every 100,000 population) is way down the chart globally. Those five cities account for just 8 percent of total number of homicides in the U.S. annually. Removing them would not significantly change the U.S. murder rate ranking and it would still be number two in total homicides.
A meme making the claim also suggests that those five cities have strict gun control laws. In fact, they do not. Many of Chicago's previous gun restrictions were overturned by court decisions and the state of Illinois, which oversees gun permits for the city, allows concealed carry of guns. St. Louis and New Orleans are in states that get F ratings on the gun law scoreboard, while Michigan -- home to Detroit -- gets a lowly C.
The false meme has been spreading on social media for several years, including a post (archived here) published on November 10, 2018. It showed a smiling young lady holding an AR-15 type rifle with the message:
The United States is 3rd in murders throughout the world.

If you remove

#1 -- Chicago

#2 -- Detroit

#3 -- Washington DC

#4 -- St Louis

#5 -- New Orleans

the United States is then 189th out of 193 countries in the entire world.

PS -- All 5x Cities have STRICT Gun Control Laws
This is what social media users saw:
There are two ways of ranking cities and countries for homicides. You can look at the raw total of murders without regard to size of country's population and you can compare murder rates, which is the population divided by the number of murders and expressed in per-100,000 rate. The rate is considered more meaningful because it is not comparing "apples to oranges."
The FBI counted 17,284 intentional homicides in the United States in 2017, the last year for available figures. This number includes those killed by knives, poisons and other deadly methods -- not just guns. It also does not reflect the many people who killed themselves with guns. That total was 37,200 in 2016. Brazil approached 63,000 homicides in 2017, making it the murder leader by far.
Brazil saw nearly 60,000 murders in 2015, as many as the United States, China, all of Europe, Northern Africa, Japan, Indonesia, Australia, Canada, and New Zealand combined.
But neither the United States or Brazil are near the top when population size is considered. While there are different charts showing somewhat different rankings -- varying by year and sources of data -- this is one example showing the 10 countries with the highest murder rates per 100,000 population:
El Salvador 108.60
Iraq 66.10
Honduras 63.80
Venezuela 57.10
Jamaica 43.20
Lesotho 38.00
Belize 34.40
South Africa 34.30
Saint Kitts and Nevis 33.60
Guatemala 31.20
The United States is listed near 80th on this chart with a 4.9 rate. The bottom 10 and their murder rates:
Indonesia 0.50
Bahrain 0.50
Austria 0.50
Brunei 0.50
Japan 0.30
Singapore 0.20
Liechtenstein 0.0
San Marino 0.0
Monaco 0.0
Andorra 0.0
Could the U.S. move to the spot between Japan and Singapore if those five cities were not part of the murder count? Nope. The total homicides in those cities in 2017 was 1,398, which is just 8 percent of the 17,284 estimated in the entire USA that year. Not counting those five cities (and it is unclear why you would even do that) the number is still the second highest in the world at 15,886. The source is the FBI's annual report:
Chicago -- 653 homicides

Detroit -- 267 homicides

Washington, D.C. -- 116 homicides

St Louis -- 205 homicides

New Orleans -- 157 homicides
Despite all of the attention to Chicago, it ranked just 10th among major cities with a rate of 24 murders per 100,000. It's ranking dropped to 25th when smaller cities are included.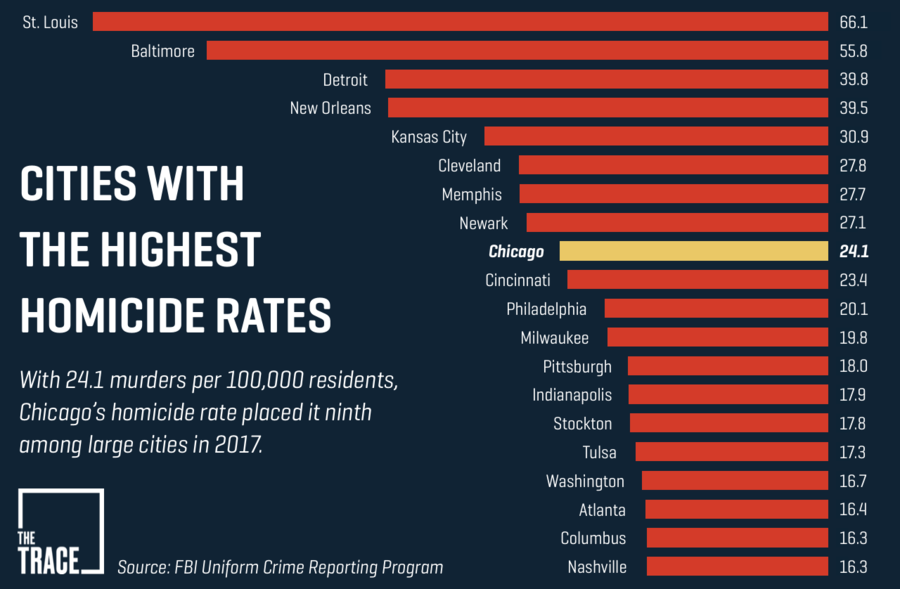 The purpose of the meme appeared to be to make the point that America's murder problem is concentrated in a small number of large cities that have tight control on guns. Imposing more gun controls on rural areas would not help lower the murder rates, the logic would say. But the real numbers show murder is a nationwide epidemic, with the highest murder rates in areas with fewer gun laws.
An annual survey of state gun laws and gun deaths shows a direct relationship between weak gun laws and higher gun death rates, according to the study. States, such as California who were given an A rating for tougher gun control laws, mostly have fewer gun deaths than the states with F ratings, such as Mississippi.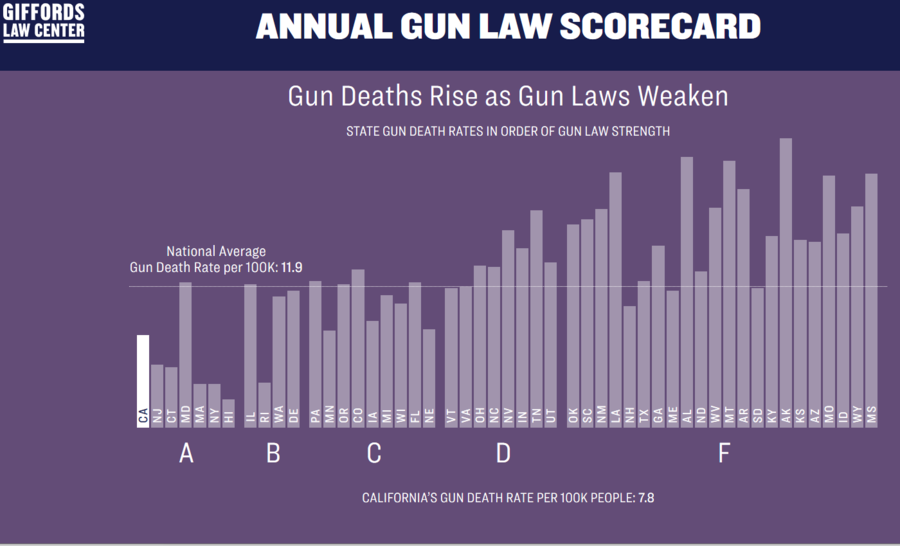 Worst State: Mississippi

Mississippi has the weakest gun laws in the nation, the fifth-highest gun death rate, and earned an F yet again on the Gun Law Scorecard. The state exhibits a reckless disregard for the safety of its residents by failing to require a background check for private party transfers, as well as failing to regulate assault weapons, unsafe handguns, and bulk firearm purchases. Mississippi's already poor gun laws have grown continually weaker in recent years, not only threatening the lives of Mississippi residents, but endangering residents of other states when guns from Mississippi are trafficked across state lines.
This meme's claim that the murders in those five cities are the difference between the highest and the lowest murder rates in the world is false math. The conclusion based on that myth that gun control laws are not related to lower murder rates is also a myth. At least, based on these official numbers.
Lead Stories welcomes any constructive arguments supported by real information that might dispute our conclusion. Leave your comments under this story.