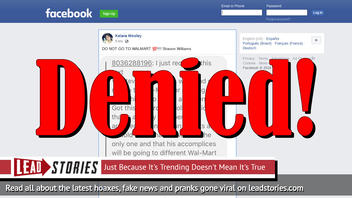 Did police warn against going to Walmart this weekend because of shooting threats? No, that's not true: several police departments and a Walmart spokesperson denied there is any substance to the story which seems to be entirely based on messages being forwarded online.
Several viral messages are spreading like wildfire on social media, the most common one seems to be this one:
8036288196: I just received this text

Whatever you do this weekend do not go to Wal-Mart for nothing at all pass this on to family and friends. Got this info from a police officer that is a family member they arrested a man for gun threats and he told that he was not the only one and that his accomplices will be going to different Wal-Mart stores and shooting. Not a game this is real...
An example of that message can be seen in this post (archived here):
Here is an example of what the most common message looks like: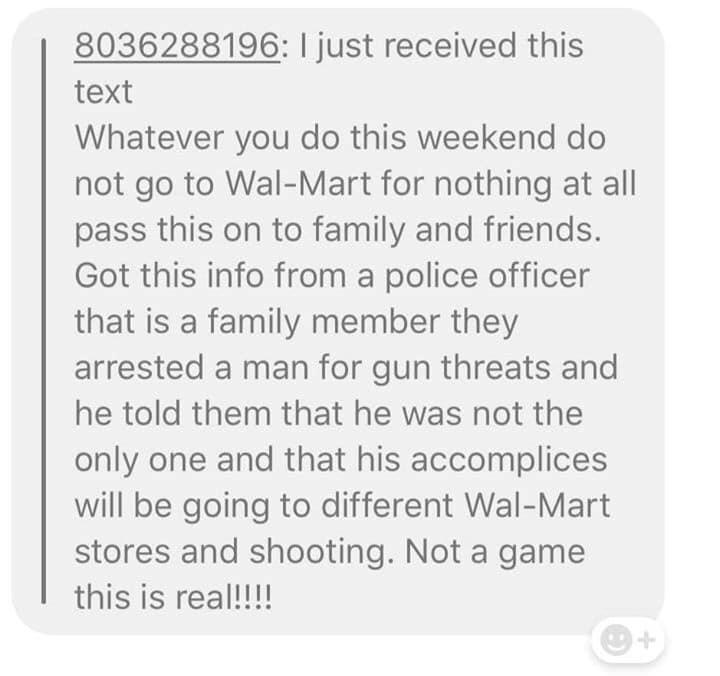 Lead Stories contacted Walmart about the message and received following reply:
We take any threats seriously and are working with law enforcement to look into them, but at this point these threats are unsubstantiated and appear to be spreading through social media.
We also tried calling the number the text supposedly came from but an automated message from Verizon claimed the call could not go through yesterday and this morning it went to a full voicemail inbox and disconnected.
Several variations of the message exist, some claiming they came from a "SSgt Winston" or from a niece who works at Walmart. Some messages also name specific towns, cities or Walmart locations. Police departments all over the country have put out statements online saying they are aware of the messages but that they don't seem to be based on any real threat:
LUBBOCK, Texas - On Tuesday, several audience members reached out to EverythingLubbock.com concerning a message going around social media about a potential mass shooting threat at Wal-Mart locations in the area. EverythingLubbock.com reached out to Captain Ray Mendoza with the Lubbock Police Department. He said officers are aware of the message, but that it is [...]
BAKERSFIELD, Calif. (KGET) - The Bakersfield Police Department has found nothing to substantiate posts on Facebook alleging an arrest or threat at a local Walmart. Police spokesman Sgt. Nathan McCauley said no arrests have been made and nothing has been found in connection to what the "extremely generic" posts alleged.
A viral Facebook post concerning a possible threat of violence at Jacksonville Walmart stores turns out to be an apparent case of mistaken identity with the larger same-name city much further south. The Jacksonville Police Department says many people reached out on social media overnight regarding the possibility of an active shooter threat to local Walmart stores, telling everyone to stay away from the businesses this weekend.
We are aware of the social media store threat that has also been reported by other departments nationwide. There is no validity to the information being connected to Virginia Beach.

-- Virginia Beach PD (@VBPD) August 16, 2019
Whenever you see messages online about some threat or danger, always check Google, news reports or the site of your local police department first before blindly forwarding them: it will avoid a lot of panic and wasted police resources.