STORY UPDATED: check for updates below.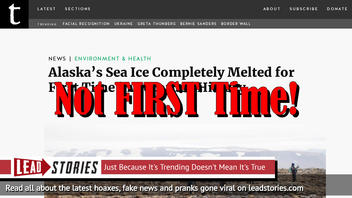 Did Alaska's sea ice completely melt in the summer of 2019 for the first time in recorded history? No, that's not true: Alaska's sea ice completely melted previously in the summer of 2017, although the 2019 melting was completed at an earlier date than before. The false claim is part of a fundraising article shared on social media. The article that is sourced in the inaccurate story does not make the "first time in recorded history claim."
Updated Sept 28, 2019: Truthout.org corrected its story, yet syndicated versions remain uncorrected.
The story originated from an article published by truthout.org on September 3, 2019 titled "Alaska's Sea Ice Completely Melted for First Time in Recorded History" (archived here) which opened:
The country of Iceland has held a funeral for its first glacier lost to the climate crisis. The once massive Okjökull glacier, now completely gone, has been commemorated with a plaque that reads: "A letter to the future. Ok is the first Icelandic glacier to lose its status as a glacier. In the next 200 years all our glaciers are expected to follow the same path. This monument is to acknowledge that we know what is happening and what needs to be done. Only you know if we did it."

This reality is reverberating across the globe, far beyond Iceland. Even when no literal funeral is being held, we are, in a sense, witnessing an ongoing funeral for the world we once knew.

July was the hottest month ever recorded on Earth since record keeping began in 1880. Nine out of the 10 hottest Julys ever recorded have occurred since 2005, and July was the 43rd consecutive July to register temperatures above the 20th century average.
Users on social media only saw this title, description and thumbnail:
There was no sea ice left within 150 miles of Alaska's shores during one of the hottest Julys on record.
This Lead Stories debunk article focuses on the inaccuracy of the claim that the complete sea ice melt in 2019 was the "first in recorded history." We are not in this article digging into every claim in the story. There is support for the claim that a complete sea ice melt occured off the Alaska coast. Along with the headline's false claim, the story said this:
Also for the first time in recorded history, Alaska's sea ice has melted completely away. That means there was no sea ice whatsoever within 150 miles of its shores, according to the National Weather Service, as the northernmost state cooked under record-breaking heat through the summer.
This paragraph included a hyperlink to a Mashable.com story titled "Alaska's sea ice has completely melted away," which reported this:
In the continually warming Arctic, sea ice has completely melted around the Alaskan coast before, notably during 2017's melt season, but never this early. "It's cleared earlier than it has in any other year," said Thoman. (Sea ice starts regrowing again in the fall, when temperatures drop.)
Perhaps it makes a more compelling (clickable) story put the "first time in recorded history" phrase in the headline and to leave it out of the story. The story in fact went viral on social media, which is demonstrated at the bottom of this article in a Trendolizer chart measuring the content's trajectory. Truthout.org used this viral content to appeal for reader donations through a pop-up that read:
Have we really fallen so far that that elections are bought and sold, and destroying the planet for profit is considered normal? We don't have much time to change things for the better. We need to raise $23,000 for journalism that dismantles systems of oppression and inspires action: Will you help?
NewsGuard, a company that uses trained journalist to rank the reliability of websites, describes truthout.org as:
A left-leaning news site that publishes reporting, analysis, and opinion focused on social justice.
According to NewsGuard the site can generally be trusted to maintain journalistic standards. Read their full assessment here.
2019-09-28T19:14:43Z

2019-09-28T19:14:43Z

12pPT September 28, 2019 - Truthout.org corrected its story to reflect total ice melt was not a first; inaccurate copies in syndication remain.