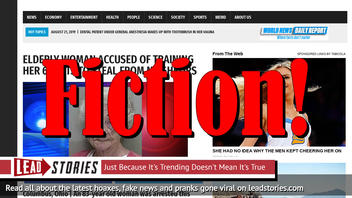 Was an old woman named Ruth Gregson arrested in Columbus, Ohio for training her 65 cats to steal from her neighbours? No, that's not true: the story was made up by a Canadian entertainment website that makes a living by publishing fictional stories often involving weird crimes, bizarre sex acts or strange accidents. It is not real.
The story originated from an article (archived here) where it was published by World News Daily Report on November 3, 2017 under the title "Elderly woman accused of training her 65 cats to steal from neighbors". It opened:
Columbus, Ohio | An 83-year old woman was arrested this morning and accused of training dozens of cats to steal jewelry and other valuables from her neighbors.

The Columbus Police Department opened an investigation on Ruth Gregson and her 65 cats in October after several neighbors reported small objects being stolen from their homes.

Several victims reported being visited by Ms. Gregson's cats before noticing the disappearance of several shiny objects, like valuable cutlery and pieces of jewelry.

Despite their skepticism, investigators began a surveillance operation and were amazed by what they discovered.
As BuzzFeed's Jane Lytvynenko already pointed out in 2017 when the original article went massively viral:
Brought to you by the creators of "Morgue Employee Cremated by Mistake While Taking a Nap."
But despite this new copies of the article keep popping up on other websites, for example this one from Tweecat.net in 2019 (archived here):
A few days ago, an 83-year old woman from Ohio was arrested on suspicion of raising cats to steal from her neighbors. Yes, we know how silly it sounds, but it's true! Ruth Gregson, a Columbus resident, was actually your friendly neighborhood granny until the real truth was revealed.
Even weirder: the picture used with the story is actually from an old lady that was apparently more crazy than the fictional one with the cats:
ST. PETERSBURG, Fla (Reuters) - Helen Staudinger, 92, wanted a kiss. But authorities say after her 53-year-old neighbor refused, the central Florida woman aimed a semi-automatic pistol at his house and fired four times. "If my head would have been over just a little bit further, (a bullet) probably would have hit me in the back of the head," the neighbor, Dwight Bettner, told Reuters.
The website World News Daily Report is a humor website specialized in posting hoaxes and made up stories. The disclaimer on their website is pretty clear about that even though you have to scroll all the way down the page to find it:
World News Daily Report assumes all responsibility for the satirical nature of its articles and for the fictional nature of their content. All characters appearing in the articles in this website - even those based on real people - are entirely fictional and any resemblance between them and any person, living, dead or undead, is purely a miracle.
On March 20, 2019 the site added a new header that included the slogan "Where facts don't matter" to make it clearer to casual visitors the published content is fictional:

The site often uses images stolen without attribution from real news websites, sometimes showing real people who have nothing to do with the story, for example here:
It is run by Janick Murray-Hall and Olivier Legault, who also run the satirical Journal de Mourréal, a satirical site spoofing the (real) Journal de Montéal. Very often their stories feature an image showing a random crazy mugshot found in a mugshot gallery on the internet or on a stock photo website superimposed over a background of flashing police lights or crime scene tape.
Articles from the site are frequently copied (sometimes even months or years later) by varous fake news websites that omit the satire disclaimer and present the information as real.
NewsGuard, a company that uses trained journalist to rank the reliability of websites, describes worldnewsdailyreport.com as:
A website that publishes hoaxes and made-up stories that are often widely shared and mistaken for news.
According to NewsGuard the site does not maintain basic standards of accuracy and accountability. Read their full assessment here.
We wrote about worldnewsdailyreport.com before, here are our most recent articles that mention the site: