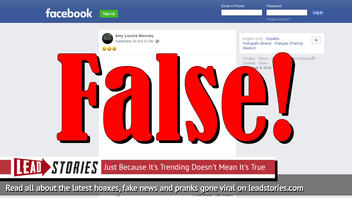 Is Luisa Neubauer the "supervisor" or "handler" of Swedish climate activist Greta Thunberg? And does Neubauer's relationship with anti-poverty campaign organization One.org prove Thunberg is part of some "elite" plot? No, that's not true: Neubauer is not Thunberg's handler or supervisor so the limited involvement Neubauer has with one.org is completely beside the point in this context.
The claim about Thunberg having Neubauer as her supervisor is mainly being spread via a viral meme, an example can be seen in this Facebook post (archived here) where it was published September 20. It showed a picture of Thunberg, a picture of Neubaer and several tiny pictures of Neubauer and Thunberg appearing at rallies together, along with the text:
For anyone who things GRETA takes care of it all: Her supervisor LUISA NEUBAUER works for the organization one.org. This organization is funded by, among others, BILL and MELINDA GATES, BONO of U2, OPENSOCIETY of GEORGE SOROS. So the ELITE are behind this.
This is what the post looked like:
And here is the image in question: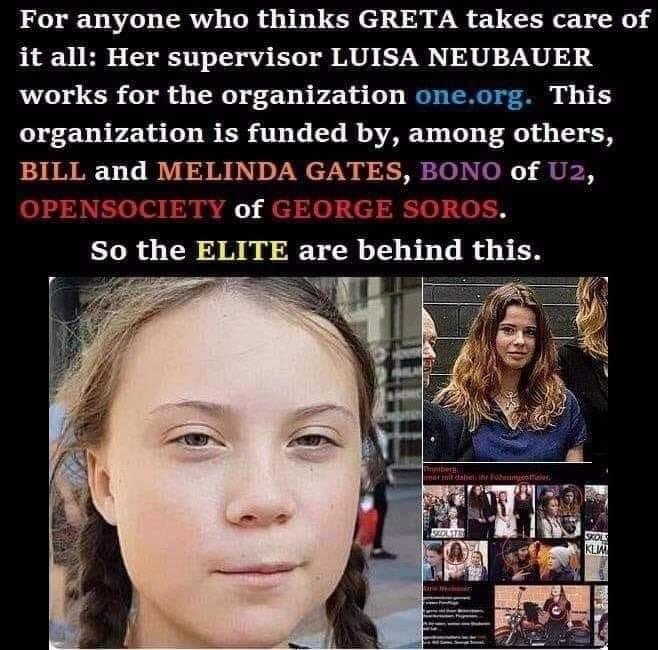 So who is Luisa Neubauer? She is a university student from Germany who has been organizing school strikes and other actions for the climate in Germany, inspired by Greta Thunberg's actions in Sweden. They have met on several occasions according to media reports:
Stockholm (AFP) They're the faces of the climate alert that propelled Green parties to strong gains in EU elections: Greta, Luisa and Leah lead a generation of youths that have put the planet atop the political agenda.
Quote:
At just 16, Sweden's Greta Thunberg has become a figurehead for a movement that has gone global, inspiring hundreds of thousands of other youths in dozens of countries to strike from school in "Fridays For Future" protests.

One of them is Luisa Neubauer, a 23-year-old university student who has been dubbed "the German Greta".

The pair have met on several occasions in recent months, including in December in Poland at the Cop24 summit and in Hamburg in March for a climate march.
And what about One.org? According to its own website:
ONE is a global movement campaigning to end extreme poverty and preventable disease by 2030, so that everyone, everywhere can lead a life of dignity and opportunity.

...

Co-founded by Bono and other activists, ONE is strictly nonpartisan. ONE is not a grant-making organisation and does not solicit funding from the public or receive government funds. ONE is funded almost entirely by foundations, individual philanthropists and corporate partners.
They list their major donors on their "financials" page and yes, Bono, the Bill and Melinda Gates Foundation and the Open Society Foundations are indeed mentioned (as are Caterpillar, Coca Cola, Cargill and Google to name just a few).
So what is Neubauer's relationship with them? According to their search page she has been one of their "Youth Ambassadors", who are described on the site as:
ONE Youth Ambassadors are a dedicated team of volunteers who electrify ONE's campaigns across Europe. They engage decision makers, work with the media to raise the profile of ONE's campaigns, and encourage the public to sign ONE petitions through online activity and local events.
The most recent story on the one.org site mentioning Neubauer is a May 2018 report she wrote about an event in Canada she attended:
32 youth delegates. 40 consultations with youth and experts. 3 days of intense in-person collaborative sessions and meetings. 1 final Call to Action - to influence national leaders at the 2018 G7 Summit. And in the middle of it all? 2 ONE Youth Ambassadors.
Neubauer does not appear in One.org's financial documents listing their key employees and management or on the page of their website listing their leadership.
Contacted by Lead Stories, Luisa Neubauer clarified:
The position as a "youth ambassador" is voluntary, I never received any money from the ONE position - also since climate striking I don't really have any time any more to engage in ONE stuff, so I believe I am technically still a youth ambassador but not an active one.

And no, Greta inspired me to start climate striking in Germany and I am glad to have gotten to know her as a friend. Thats about it. I have never been a position that could be any close to a supervisor role, I don't think there is anyone who would fit that description.
So a young German climate activist who met Greta Thunberg did some volunteer work for an anti-poverty campaign.
Not really the strongest proof for an ELITE being behind all this.