STORY UPDATED: check for updates below.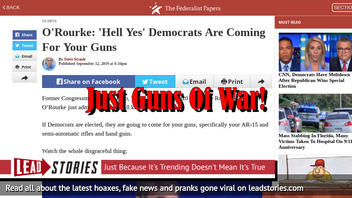 Did Beto O'Rourke say in the Democratic debate Democrats are coming for your hand guns? No, that's not true: The former Texas congressman did say if elected president, he would push to make illegal AR-15s, AK-47 and other weapons "designed to kill people on a battlefield." He would make it mandatory that current owners of those weapons would have to sell them to the federal government. Contrary to what some articles were claiming after the September 12, 2019, debate in Houston, O'Rourke did not mention government confiscation of hand guns.
The false claim originated from an article (archived here) published by TheFederalistPapers.org barely an hour after the debate ended on September 12m 2019 under the title "O'Rourke: 'Hell Yes' Democrats Are Coming For Your Guns". It opened:
Former Congressman from El Paso, Texas and current 2020 candidate Robert Francis 'Beto' O'Rourke just admitted what we all knew was true.

If Democrats are elected, they are going to come for your guns, specifically your AR-15 and semi-automatic rifles and hand guns.
This is what social media users saw:
Beto O'Rourke's focus during the third round of Democratic presidential debates was clearly over his call for gun control. The August 3, 2019 shooting in which a 21-year-old Texas man used a military-style rifle to kill 22 people at a WalMart happened in O'Rourke's hometown of El Paso. He frequently cites the attack as justification for outlawing weapons that can rapidly fire high-velocity rounds and be reloaded with large magazines. When ABC host David Muir asked O'Rourke about his proposal to make gun owners sell their AR-15s and AK-47s to the government, he replied:
I am, if it's a weapon that was designed to kill people on a battlefield... If the high impact, high velocity round, when it hits your body, shreds everything inside of your body, because it was designed to do that, so that you would bleed to death on a battlefield and not be able to get up and kill one of our soldiers.

When we see that being used against children, and in Odessa, I met the mother of a 15-year-old girl who was shot by an AR-15, and that mother watched her bleed to death over the course of an hour because so many other people were shot by that AR-15 in Odessa and Midland, there weren't enough ambulances to get to them in time, hell, yes, we're going to take your AR-15, your AK-47.
While the U.S. military uses M-16s and not AR-15s, which does not have the automatic fire setting.The civilian version can fire the same ammunition, although in a semi-auto mode.
The reference to Odessa was about another mass shooting in his home state in which a man used an AR-15 to murder eight people and wound another 25 -- including three police officers -- on August 31, 2019.
O'Rourke never mentioned hand guns, which were not designed for battlefield assaults. Yes, many soldiers do carry side arms. This writer was trained and armed with a 45-caliber hand gun while serving as an armored recon scout in the U.S. Army. However, it was explained that if he ever was so close to the battle that he had to fire it at an enemy soldier he would likely also be killed. Yes, a hand gun with certain types of ammunition can destroy your internal organs like a meat grinder, but they are not "high velocity" and are not designed for combat. The article over stated O'Rourke's proposal.
Here is video of the section of the debate in question:
Update September 14, 2019:
TheFederalistPapers.org and RightWingTribune.com corrected their story to remove the reference to handguns.
Also, some people have questioned how a former CNN reporter could write a story about weapons of war. Lead Stories' editor-in-chief Alan Duke is a veteran of the U.S. Army and the Georgia National Guard. He was trained to use many of the personal weapons in the Army's arsenal between 1975 and 1985. He also is a graduated of the U.S. Army's Airborne School at Fort Benning and proudly wears his wings. Duke also enjoys visits to gun ranges to practice his shooting skills with his faorite weapons.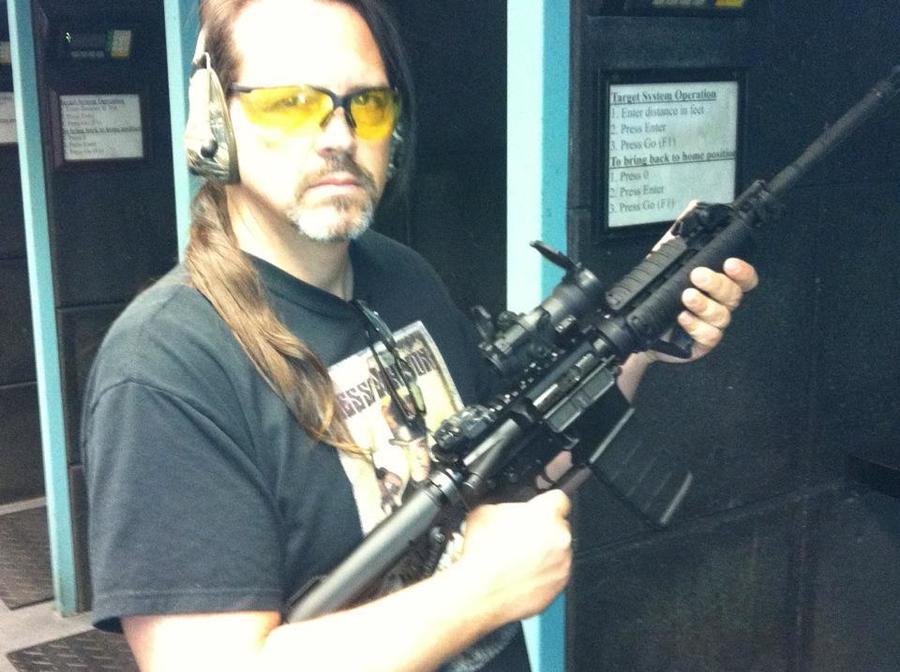 NewsGuard, a company that uses trained journalist to rank the reliability of websites, describes thefederalistpapers.org as:
A website covering American politics and cultural issues. TheFederalistPapers.org's stories often make opinionated claims that are not supported by facts and are often not labeled as opinion.
According to NewsGuard the site does not maintain basic standards of accuracy and accountability. Read their full assessment here.
We wrote about thefederalistpapers.org before, here are our most recent articles that mention the site:
2019-09-15T02:58:24Z

2019-09-15T02:58:24Z

Update September 14, 2019