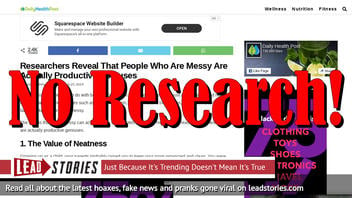 Did researchers reveal that people who are messy are actually productive geniuses? No, that's not true: An article making the claim cites no such research that concludes messiness is a sign of genius or productivity. This is a click-bait claim unsupported by any studies. There is also no research showing that unintelligent people cannot be messy and unproductive.
The false claim originated from an article (archived here) published by DailyHealthPost.com on July 25, 2019 under the title "Researchers Reveal That People Who Are Messy Are Actually Productive Geniuses". It opened:
Being messy has nothing to do with being unproductive or laziness. These are just assumptions and nothing more. In fact, historical figures such as Thomas Edison, Albert Einstein, Steve Jobs, and Mark Twain were famously known for being messy.

The truth is that being messy can actually be a sign of intelligence. (1) Here are six reasons why messy people are actually productive geniuses.
This is what social media users saw:
The six points listed in the article start with the claim that there is no proven value in neatness. It contends that "your messiness, even if that is on a small scale, your productivity can actually increase by 30%." A link to a purported citation for that statistic is a defunct wordpress blog.
Working at a clean and prim desk may promote healthy eating, generosity, and conventionality, according to new research. But, the research also shows that a messy desk may confer its own benefits, promoting creative thinking and stimulating new ideas.
Ok, but it does not conclude that everyone with a messy desk is a "productive genius."
The third point is that "messy people that thrive in a disorganized environment, on the other hand, tend to have higher levels of focus." There is no research provided for this claim. They just threw that out there without citation or support.
The fourth claim in that "messy people see the big picture," which allows them to make decisions faster, instead of getting stuck on minor details that won't matter in the long-run." Again, there is no research cited and no explanation of how this claim was supported. Also, there is no connection to making fast decisions and being a "productive genius." Just because a decision is fast, does not make it "genius."
The fifth argument is that "messy people don't obsess over cleaning and tidying." It doesn't take a productive genius to conclude that if you are messy, you must not be obsessed with being tidy. But it is not proof you are a productive genius just because you are not obsessed with cleaning. Instead of research, the article cites
a short NPR interview
in which an astrophysicist said disorder is the most natural state of the universe.
The article concludes with the claim that "your non-organized mind can be sign of flexible intelligence." There is no study cited. No researcher named. Just the statement with a vague, supported explanation. Also, it says "can be a sign" -- not "is a sign."
The contents to the article do not supported the main claim that researchers have revealed that if you are messy, you are a productive genius.
NewsGuard, a company that uses trained journalist to rank the reliability of websites, describes dailyhealthpost.com as:
A website that promotes false and misleading claims about "natural" health remedies, including unproven cures for cancer.
According to NewsGuard the site does not maintain basic standards of accuracy and accountability. Read their full assessment here.
We wrote about dailyhealthpost.com before, here are our most recent articles that mention the site: