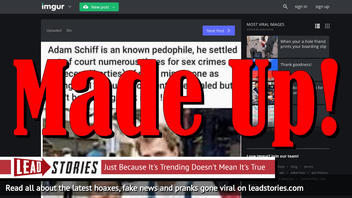 Is Rep. Adam Schiff a known pedophile who has secretly settled numerous sex crime cases involving underage males? No, that's not true: allegations that the California congressman had been accused of "indecent liberties" with boys and was accused of sexual violence against a gay lover began circulating on social media since Schiff became chairman of the house intelligence committee. They've become more vicious as he was chosen to lead impeachment hearings into President Donald Trump. None of the images or details have held up under our fact checking.
While there are some website articles detailing the claims, much of the disinformation is delivered in memes, includng a post (archived here) published on November 13, 2019 which features a photo of Schiff from about 1987 with a young boy he was mentoring under the "Big Brother" program. It implied that the child was Schiff's victim. The text read:
Adam Schiff is an known pedophile, he settled out of court numerous times for sex crimes (indecent liberties) of male minors one as young as 11, court documents are sealed but won't be for long, look it up!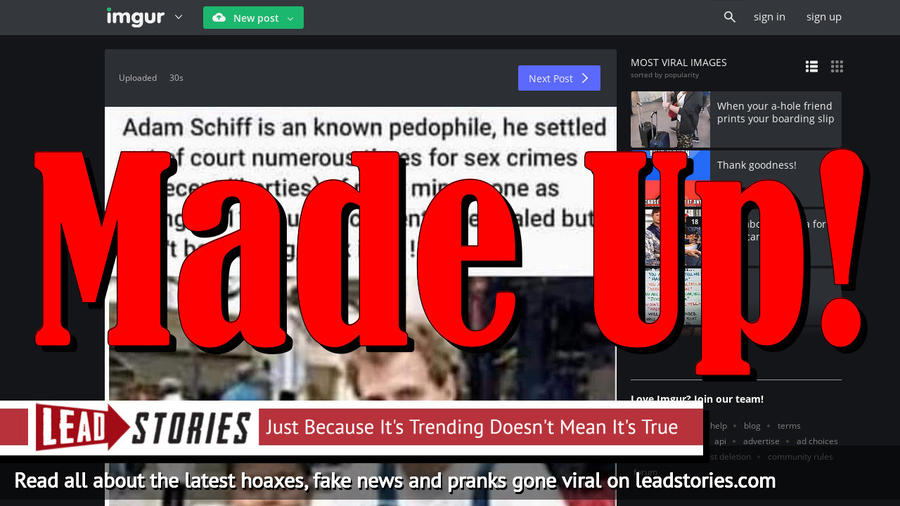 This is what social media users saw:
The photo in the meme was tweeted by Rep. Schiff on February 1, 2017 with the message:
Love this old photo of me and my Little Brother David from the 1980's. #BeAMentor like I was for
@BBBSLA
- it's life-changing!
Love this old photo of me and my Little Brother David from the 1980's. #BeAMentor like I was for @BBBSLA - it's life-changing! pic.twitter.com/qtGNBjCMMb

-- Adam Schiff (@RepAdamSchiff) February 1, 2017
"Little Brother David" is David McMillan, who would have been about 8 or 9 when the photo was taken. Schiff mentored McMillan under the Big Brother Big Sister program starting in 1986, when David was seven, according to a June 22, 2000 Los Angeles Times article titled "Meet Adam Schiff:"
McMillan was a 7-year-old growing up with a single mom in Inglewood when he was introduced to the man he counts as a male role model.

Growing up, McMillan said he talked to Schiff about everything, from girls to his fear of the dark. "One night, I was really afraid but I was trying to stay in my room and be brave," McMillan recalled. "Adam stayed on the phone with me until almost morning."

When kids at his junior high school teased him for not being "black enough," McMillan went to Schiff for help. "He helped me to realize that I was OK to be different," McMillan said.
Contrary to the implications from the meme, there is no evidence that McMillan -- who is now about 40 years old -- was a sex victim of Schiff.
Several memes and stories claiming Schiff has a long record of sex crimes include a February 11, 2018 article titled "L.A. Times: Adam Schiff's Gay Lover Makes Claims Of Abuse," published by TheNetSpies.com. It opened:
Los Angeles Times reporter and assistant managing editor, Kristina Bellatori dropped another bombshell in what can only be described as the ongoing US Congressional and political sex and domestic violence scandal this afternoon.

"The Rob Porter domestic violence fiasco seems to have turned more than just the White House upside down," Bellatori told The Net Spies via Skype. "Not only has everything been turned upside down, but it seems that abuse victims are literally falling from the sky."

Bellatori was contacted by Will Bottom, who claims to be the gay lover of California Congressman, Adam Schiff. "Will contacted me and told me that he had been a victim for too long and wanted to speak out," Bellatori told us. "Mr. Bottom stated that he has been Mr. Schiff's gay lover for many years and has endured a plethora of physical, emotional, and sexual abuse."
Per la times. https://t.co/OsQVp9Nnq9

-- John Riddle 🇺🇸 (@JFRiddle3) December 11, 2018
This would be a remarkable story if it were true, but it is completely made up. There was no such Los Angeles Times report and no reporter and assistant managing editor named Kristina Bellatori. However, there was one named Kristina Bellatoni. WHen Bellatoni, who now teaches journalism at University of Southern California, saw a tweet about the story, she made it clear that she never communicated with TheNetSpies.com and never made those statements. She called it "fake news:"
Clue No. 1: A website you've never heard of citing an LAT story that doesn't exist.
Thanks for flagging. This is some very seriously fake news.

Clue No. 1: A website you've never heard of citing an LAT story that doesn't exist. https://t.co/FMUsft3ilx

-- Christina Bellantoni (@cbellantoni) December 18, 2018
Clue No. 2 that this is fake news is the photo in the story. It shows a man with a severely bruised face, purportedly injuries suffered at the hands of Schiff. Contrary to the story, the photo is not "Will Bottoms." A reverse image search revealed the man is Taj Patterson, a victim of a racial attack in Brooklyn in 2013. The photo was apparently lifted from this New York Times story about him. Bottoms is fictional.
The meme says "look it up!" We did and found it was fake news.