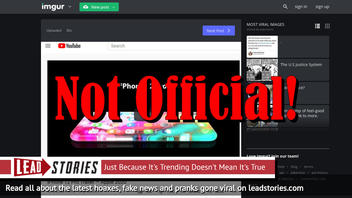 Did Apple release an official video trailer showing the iPhone 12 Pro that is expected to be released in 2020? No, that's not true: A video posted on YouTube and widely shared across social platforms is a concept created by a company not affiliated with Apple. It is only speculation and there is no evidence that Apple has revealed specifications and design features to the video producer. The producer acknowledged that it is not even based on rumors, but just on their ideas of what would be "the perfectly designed iPhone." Unfortunately, that admission is not seen by most people sharing the video.
The claim originated from a video (archived here) posted on the ConceptsiPhone YouTube channel in October 2019 under the title "iPhone 12 Pro Official Trailer, Apple 2020". The description read:
All the specifications of the iPhone 12 Pro and iPhone 12 Pro Max at the end of the video.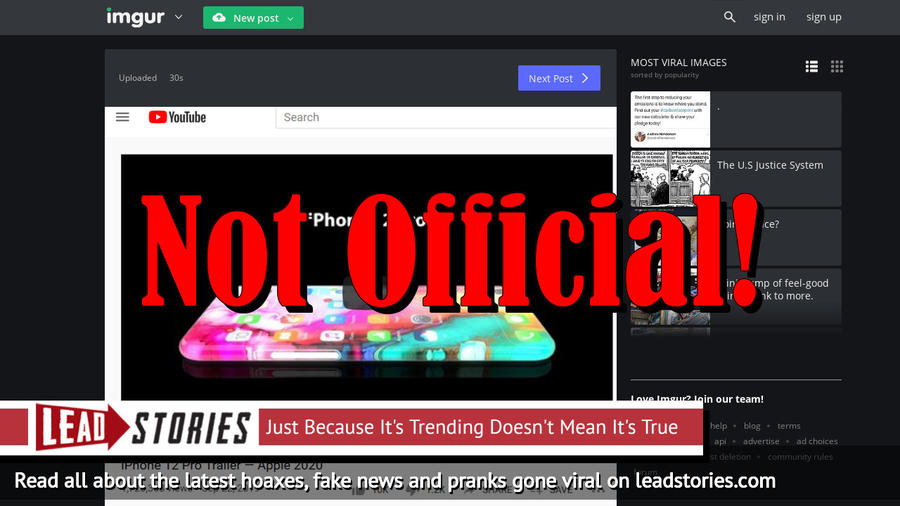 This is what social media users saw:
Apple is very careful to keep features of its products still in development a secret. There have been design leaks from suppliers in the months and weeks before some releases that have proven accurate. ConceptsiPhone admitted on the main page of their YouTube channel that the video is not based on leaks and if just their concept:
This video is a concept, and it's mainly based on the idea of a perfectly designed iPhone and not on the rumors about the next iPhone incoming. So, iPhone 12 or iPhone 11?
The admission that it is fake is not included in the video or the description. Instead, it is labeled "official."
We wrote about youtu.be before, here are our most recent articles that mention the site: