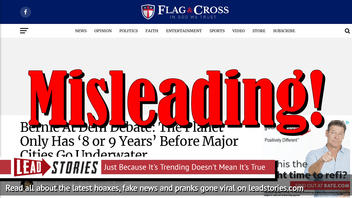 Did Bernie Sanders say at a Democratic debate that the planet has only eight or nine years before major cities go under water? No, that's not true: What the Democratic presidential hopeful said was that, unless "we get our act together within the next eight or nine years," the rising sea levels would inevitably flood major cities. Instead of saying the cities would be flooded in that time, he was warning that decisive action to slow climate change must be taken in the decade.
The story originated from an article published by Flag & Cross on November 22, 2019, titled "Bernie At Dem Debate: The Planet Only Has '8 or 9 Years' Before Major Cities Go Underwater" (archived here) which opened:
How in the world is Bernie Sanders beloved by so many millions of Americans? How backward must a person be to support someone so criminally ridiculous? Apparently, very.

At the latest Democrat debate, which you didn't watch because seeing paint dry was literally more interesting, the 2020 Democrat Socialist presidential candidate said the planet has about eight or nine years left before major cities begin going underwater.

Like everyone else running for president opposite Donald Trump, Bernie has no clue about what he speaks. It's really that simple.
Users on social media only saw this title, description and thumbnail:
And he's taken seriously by millions...
The exact phrasing of Sanders' comment was:
What the scientists are telling us is if we don't get our act together within the next eight or nine years, we're talking about cities all over the world, major cities going underwater, we're talking about increased drought, we're talking about increased extreme weather disturbances.
So, he said decisive action must be taken to reverse the trend of climate change in that timeframe; he did not issue an explicit warning that cities were about to go underwater before the next decade was up. Put simply, words were taken out of context by many outlets.
In fact, some 97 percent of scientists have agreed that climate change is causing irreparable harm to the globe, and that temperature increases and worsening weather conditions will start around 2030 if the world does not act to reverse human-caused climate damage.
NewsGuard, a company that uses trained journalist to rank the reliability of websites, describes flagandcross.com as:
A website that covers politics, faith, and entertainment from a conservative, hyper-partisan perspective.
According to NewsGuard the site can generally be trusted to maintain journalistic standards. Read their full assessment here.
We wrote about flagandcross.com before, here are our most recent articles that mention the site: