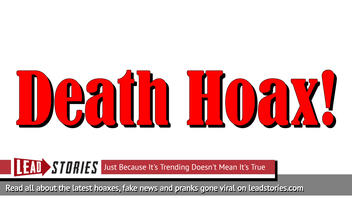 Did Duane 'Dog' Chapman die of suicide after a depression attack and did the BBC report this? No, that's not true: an outfit of scammers likely from the Philippines has put out a video and a number of websites making that claim but it is all bogus. The scammers are tricking people into sharing more copies of the story on Facebook by telling people they have to share the link on their timeline if they want to continue watching the video on the site. There are dozens of different links they are tricking people into sharing, using multiple (sub)domain names, so it is quite hard for search engines and social media platforms to take action on all of them.
An example of this hoax can be found here on a faked BBC website. It shows a title that says ".DUANE 'DOG CHAPMAN'. Died of SUlClDE After Depression Attack on his Sickness.. | BBCNEWS" (archived here) and the description reads:
He recorded his last breath to show to his wife why he did it.
Users on social media only saw this title, description and thumbnail:
He recorded his last breath to show to his wife why he did it.
This is the video shown on the site (archived here):
It currently shows over 270,000 views on YouTube (and no "thumbs up" but six "thumbs down"). This indicates people are not finding the video on YouTube but they are all watching it via the scammer's website. Note that the BBC announcers in the video don't even say Chapman is dead, it is old footage from announcers preparing viewers for some sad news and then switches to still photos of Chapman. The "rest in peace" placard at the end then suddenly switches to WGN branding for some bizarre reason.
Only a few days ago Chapman was victim of a similar death hoax, likely by the same people, only that time it was claimed he died of pulmonary embolism:
A link shared on Facebook purportedly shows a WGN America video that announces reality television star Duane "Dog the Bounty Hunter" Chapman has died from a pulmonary embolism. "He was never healthy since his wife died," reads the subheadline. Verdict: False Chapman dispelled rumors of his death on Instagram Nov.
Chapman took to Instagram at that time to deny the rumor:
Earlier the same network of sites also ran death hoaxes about Clint Eastwood, Dwayne "The Rock" Johnson, Tom Cruise and Rowan Atkinson.
If you want to read more about the technical means used by the scammers to run their deception, check this article we wrote earlier:
STORY UPDATED: check for updates below. Earlier this week Lead Stories already reported that Clint Eastwood was NOT dead, despite what a YouTube video was claiming: Hoax Alert Did Clint Eastwood recently die? No, that is not true: It is a celebrity death hoax.