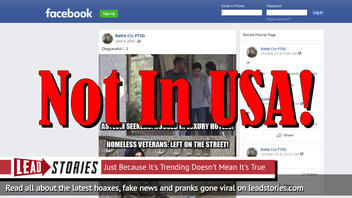 Are asylum seekers housed in luxury hotels in the United States, while homeless veterans are left in the street? No, that's not true: Refugees who apply for asylum in the United States are eligible for limited financial support for housing, but there is no program that places the immigrants in luxury hotels. The photo used in a meme making the claim is from a British newspaper reporting on 150 African and Arab migrants temporarily staying in a Kent hotel while their applications were processed in 2014.
The federal government estimates there are approximately 40,000 homeless vets on the streets each night. The Veterans Administration and other groups offer help, but far short of what is needed to address a widespread and complex problem.
The meme originated from a post (archived here) published on June 8, 2016, under the title "Disgraceful!". It opened:
ASYLUM SEEKERS: HOUSED IN LUXURY HOTELS!

HOMELESS VETERANS: LEFT ON THE STREET!

SHARE IF YOU THINK THIS IS A DISGRACE!
This is what social media users saw:
The meme maker used a photo from Britain's Daily Express September 28, 2014, article titled "EXCLUSIVE: Taxpayers fund migrants B&B rooms in top holiday destinations" which read:
The Daily Express can reveal 150 refugees have been bussed to Bournemouth where they are enjoying full bed and board on the public purse.

The move sparked anger on the "Sunshine Coast" coming just days after it was revealed how 130 migrants had taken over a hotel in Folkestone, Kent.

The Daily Express has learned that beleaguered Home Office officials have turned to Britannia Hotels, one of the UK's largest groups, to solve the UK's growing asylum epidemic.

Coach loads of African and Arab refugees have checked in to the three-star Heathlands and Roundhouse hotels in Britain's premier destination resort while their claims for asylum are processed.
The resort housing was a fix to a temporary shortage of housing for the new arrivals, who would normally qualify for £36.62 each week -- which translates to about $47.
The United States provides some temporary housing assistance to legal migrants who apply for asylum, but it is not enough to pay for a luxury hotel stay. Lead Stories took a close look at the assistance and the meme myths about it in two stories, titled "Fake News: One 'Illegal Refugee' Does NOT Get $3874 Per Month With The Federal Assistance Program" and "Fake News: Illegal Immigrants Do NOT Get 43% Of All Food Stamps, 95% of Los Angeles Murder Warrants, 66% Of California Births, 60% Of HUD Housing".