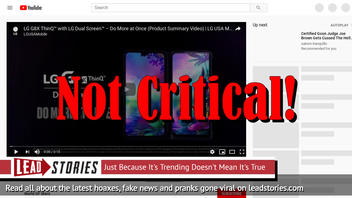 Was actor/singer Tyrese Gibson hospitalized in "critical condition" after his movie was banned in theatres? No, that's not true: a sensation-seeking YouTube channel took an article about Gibson being in hospital and recovering after an exhausting promo tour for his movie and added the detail that he was somehow in "critical" condition. The video is still going viral days after Gibson left the hospital.
The video can be seen here on the World OF Stars channel where it was published on October 29, 2019 under the headline "Prayers Up, Tyrese Gibson Hospitalized In Critical Condition After His Movie Banned In Theaters." (archived here) :
The video appears to be a slideshow accompanied by a voice reading an article copied from The Jasmine Brand (archived here):
Tyrese had a busy weekend. The singer and actor was admitted into the hospital. He shared a photo from the bed Monday (Oct. 28). It looks like he might have been a little too busy as he said he's done more than 700 interviews in the last 2 weeks to promote the film Black & Blue, which was released Friday (Oct.
However that story only mentions Gibson being hospitalized based on a (now deleted) Instagram post Gibson made, in which he indicated he was already recovering:
"Ya'll know they can't keep a good man down for long..... #HealthIsWealth Damn near 700+ interviews in the last 2 weeks for our little beloved #BlackAnsBlueMovie about 75 flights3 movies in one year..... Out of here in a few hours ( hopefully ) @bigboy I apologize about that moment the other day big bro I owe you King in a real way #recoveryMode ps:

Dear Nurse:
You're an angel.... Like a loving mother you're just standing here watching everyone and speaking to me so softly and being kind..... I feel so much more safe cause you're here..... I hope I made you proud God! Did my best with what you've given me.... Amen!"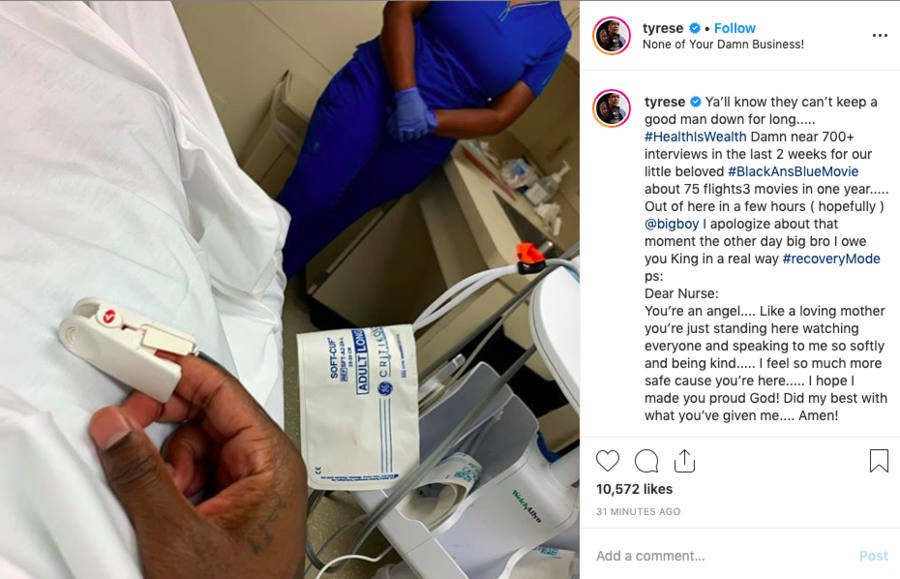 Later Gibson indicated in a new Instagram post (archived here) that the details about him being in "critical condition" were vastly overblown:
The image in the post read:
Dear blogger,

That's clearly bored and created some classic "click bait" good job...

You got folks calling me and texting saying I'm laid up somewhere in critical condition jeez!

How many hits did you get on this story a few million.?

I went to the hospital the other day and was there for all of 3 hours for dehydration and fatigue... I drove myself there and left 3 hours later and drove myself home...

Life is good... Another strategy! Nice try pimp! Get to the theaters and watch #BlackAndBlue it's in theaters now...
The American Hospital Association defines "critical condition" as:
Vital signs are unstable and not within normal limits. Patient may be unconscious. Indicators are unfavorable.
It is the worst condition that can be used to describe a patient, just a grade above "dead". Clearly not the right way to talk about someone who is in and out of the hospital in three hours under his own power...
Oh, and the part about the movie being banned? As the article at The Jasmin Brand correctly noted, those were just accusations Gibson made based on some social media comments of people having trouble ordering tickets. For a "banned" movie it seems to be making quite some money:
Share to facebook Share to twitter Share to linkedin You can tell that it's a slow weekend for new releases when that's the last post I do. Anyway, in a calm-before-the-storm weekend before the holiday season begins, Sony and Screen Gems' Black & Blue opened with a halfway decent $3.055 million on its first day of release.