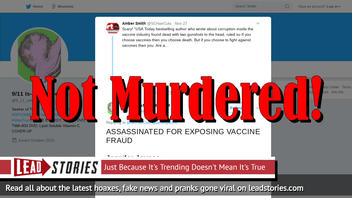 Was best-selling author Jennifer Jaynes assassinated for exposing vaccine fraud? No, that's not true: Jaynes, who wrote domestic thrillers and children's books, died of a single gunshot that investigators ruled was self-inflicted. Although her recent novel "Malice" was a medical thriller with "Big Pharma" as a villain, she was not known for "exposing vaccine fraud." Her books were fictional. Her boyfriend called the conspiracy theories "malicious rumors."
The claim that Jaynes, who was found dead in her Lindale, Texas, home, was murdered apparently originated from a tweet (archived here) posted on November 27, 2019 under the title "ASSASSINATED FOR EXPOSING VACCINE FRAUD". It was a reply to another tweet that linked to her obituary. That tweet read:
Scary! "USA Today bestselling author who wrote about corruption inside the vaccine industry found dead with two gunshots to the head, ruled su If you choose vaccines then you choose death. But if you choose to fight against vaccines then you Are a...
This is what social media users saw:
ASSASSINATED FOR EXPOSING VACCINE FRAUD

Jennifer Jaynes
October 30, 1972 - November 25, 2019https://t.co/iWBp4JvGhd

-- 9/11 Is-An InsideJob (@9_11_IsAnInside) November 28, 2019
Jennifer Jaynes' novel "Malice" was viewed by many as a anti-vaxxer book because the plot involved a compromised doctor and a promising drug that proved to have harmful side affects. But it was fiction. For Jaynes to be murdered for writing such a novel would be like James Clancy being killed for exposing espionage secrets in his spy thrillers.
The conspiracy theories began to circulate after Jaynes' death on November 25, 2019. Many of the articles and stories claimed that the 47-year-old writer was found dead with two gunshot wounds. Any forensics expert will tell you that suicides usually involve one shot, not two. Sgt. Larry Christian, spokesman for the Smith County, Texas, Sheriff's Office, told Lead Stories it involved just one shot and it was ruled a suicide:
On Monday, November 25, 2019 at 10:49 a.m., the Smith County Sheriff's Office did respond to a call for service in the Hideaway Lake community near Lindale, Texas. This call did involve Jennifer Jaynes who had died from a single, self-inflicted gunshot wound. I hope this helps you, sir.
Another confirmation that Jaynes' death had nothing to do with her fictional writing came from her boyfriend in a post to her fans on her official Facebook page:
It comes with deep sadness to announce the loss of my loving girlfriend Jennifer Jaynes on the 25th of November 2019. She will be missed more than words can ever convey. An incredible woman with a heart the size of the universe, she always talked lovingly about her readers, fans and friends and looked forward to hearing from you all. We would often stay up late sending out books to those that wanted to read her novels, yet lacked the finances to buy (she'd send her books to them regardless). She will be missed, loved and always remembered.
Let's celebrate the life of this wonderful woman, by remembering the love, warmth and care she gave to us all.
With respect, - Burke Bryant

Please also know that Jens passing had absolutely NOTHING to do with the anti vax world. Those ARE just malicious rumors. -B