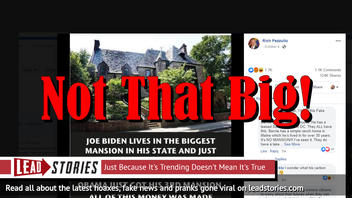 Does Joe Biden live in the biggest mansion in his state? No, that's not true: While a 6,850 square feet house is big, it is not close to being the biggest in Delaware, the state former Vice President Biden represented in the senate for 36 years. Biden's home built the house in 1996 for $350,000 and it was worth about $1.34 million in 2019, according to Zillow.com.
The false claim originated in a tweet by a New York radio host in August 2019, which was turned into a meme (archived here) widely shared on social media, including one posted by failed GOP congressional candidate Richard Pizzulo on October 6, 2019. It read:
JOE BIDEN LIVES IN THE BIGGEST MANSION IN HIS STATE AND JUST BOUGHT ANOTHER MANSION IN DC.

BERNIE SANDERS HAS 4 HOUSE.

OBAMA JUST GOT HIS 3RD MANSION,

ALL OF THIS MONEY WAS MADE FROM THEM LECTURING YOU ON INCOME INEQUALITY!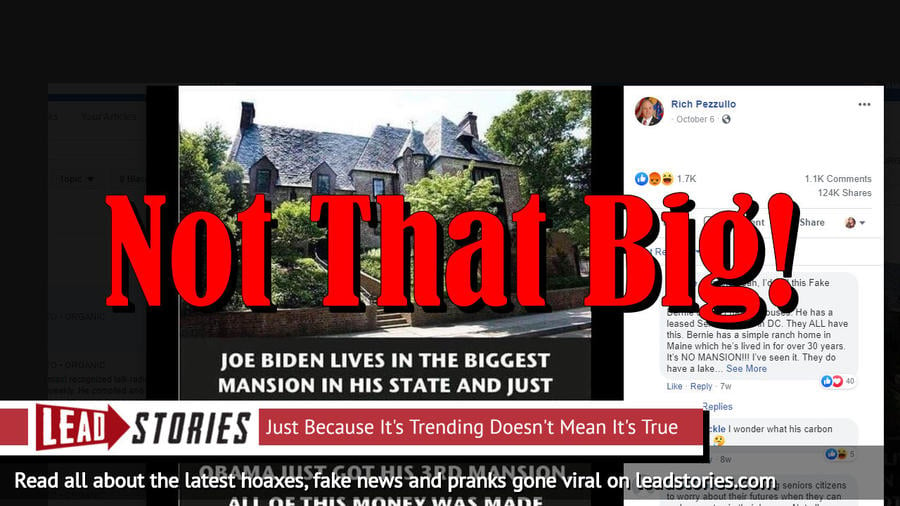 This is what social media users saw:
This is the original tweet posted by radio host Mark Simone:
Joe Biden lives in the biggest mansion in his state and just bought another mansion in DC, Bernie Sanders has 4 houses, Obama just got his 3rd mansion. All of this money was made from lecturing you on income inequality!

-- MARK SIMONE (@MarkSimoneNY) August 23, 2019
Here are the specs on Biden's Wilmington, Delware, home as provided by Zillow:
1209 Barley Mill Rd, Wilmington, DE is a single family home that contains 6,850 sq ft and was built in 1998. It contains 3 bedrooms and 4.5 bathrooms. This home last sold for $350,000 in March 1996. The Zestimate for this house is $1,337,695, which has decreased by $13,195 in the last 30 days. The Rent Zestimate for this home is $7,647/mo, which has decreased by $122/mo in the last 30 days.
The Washington Post reported on Biden's increased income since leaving the vice presidency in 2017 in a story titled June 25, 2019, story titled "Once the poorest senator, 'Middle Class Joe' Biden has reaped millions in income since leaving the vice presidency." It noted that Biden rents a home in the Washington, D.C. suburbs, owns a vacation home on a Delaware beach, and has the Wilmington house:
Since leaving the vice presidency, Biden has rented the McLean home and purchased a $2.7 million, 4,800-square-foot vacation house near the water in Rehoboth Beach, Del., to go along with his primary residence, the nearly 7,000-square-foot lakeside home he built more than two decades ago in Wilmington, Del.
Perhaps the biggest mansion in Biden's state is the Nemours Estate, which has 77 bedrooms.