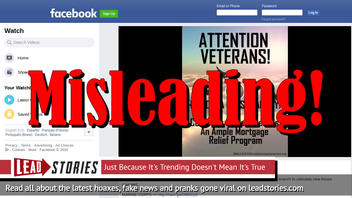 Did Congress give U.S. military veteran homeowners a generous mortgage relief program? No, that's not true: An advertisement on Facebook claiming there is a federal program allowing veterans to "pay off a house rapidly" is a misleading come-on by a marketer designed to collect data on veterans. The data could then be sold to loan companies. The advertiser told Lead Stories it was referencing a provision that allows homeowners to refinance Veterans Administration loans - but that program, which has been in place since 1980, does not include any "generous relief."
The claim originated in an ad sponsored by LowerMyBills.com through its Facebook page Veteran Loans Online. The ad began running on December 9, 2019, with the company spending about $18,000 in the first week of 2020 to put it on veterans' timelines. Strangely, the video features Russian Mig-29 fighter jets flying in formation with the message reading:
ATTENTION VETERANS!

PAY OFF A HOUSE RAPIDLY!

Congress Gives Veterans An Ample Mortgage Relief Program
This is what veterans targeted by the ad saw: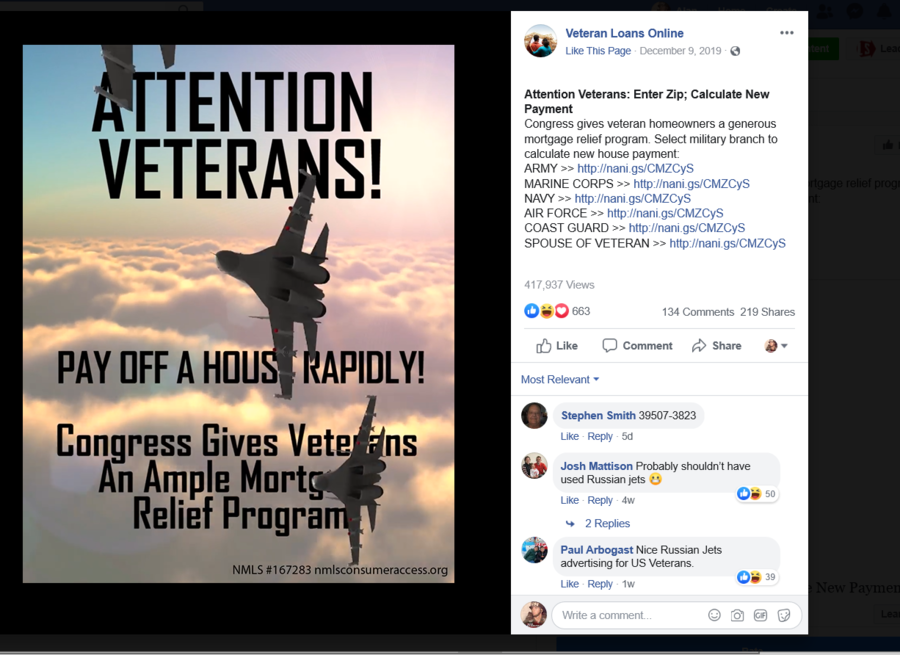 The message leading into the ad read:
Attention Veterans: Enter Zip; Calculate New Payment

Congress gives veteran homeowners a generous mortgage relief program. Select military branch to calculate new house payment:
When vets click on the links provided, they are taken to a webpage that reads:
Congress Gives U.S. Veterans A Generous Mortgage Relief Program

Congress passes mortgage relief program for veterans. If you own a home, don't go another month without calculating your new house payment. (Yes, it really works.)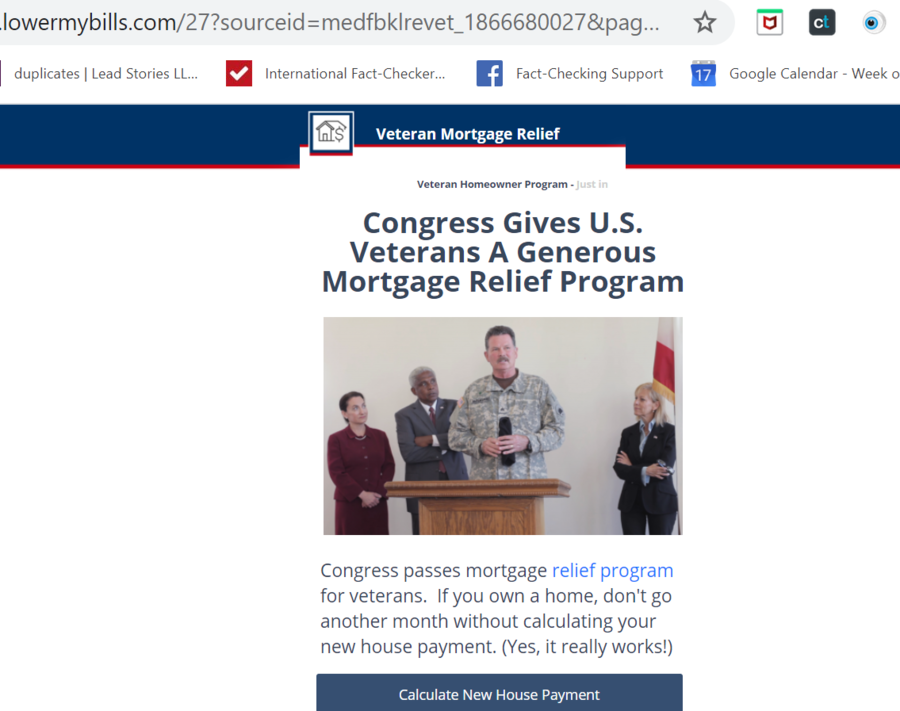 Those who continue clicking are led through a series of pages which asks them for personal financial information that is then sold to loan companies. The companies then begin contacting the veteran. If a veteran is expecting "generous mortgage relief," they may be disappointed. When we contacted LowerMyBills.com to ask what relief program their ads reference, we were told:
LowerMyBills is not a mortgage lender, but we do provide a matching service, for interested, in-market consumers, to discover providers that may have relevant product or service offerings.

Specifically related to your inquiry, the program referenced in the banner advertisements is the "IRRRL," or the Interest Rate Reduction Refinance Loan. This "Streamline VA Refinance" is a featured program for veterans that offers benefits which are uncommon or unavailable to most consumers. The LMB page contains information on this program at: https://www.lowermybills.com/mortgage/what-is-an-interest-rate-reduction-refinance-loan/

Third Party sites also have similar explanations, highlighting similar service offerings - for example: https://www.usaa.com/inet/wc/advice-real-estate-what-is-a-VA-IRRRL?akredirect=true

And is highlighted as a service member benefit: https://www.benefits.va.gov/homeloans/index.asp

A broader discussion of VA benefits, generally, is available at LMB's site at: https://www.lowermybills.com/mortgage/veteran-loans/

Beyond that, we advise consumers to connect with providers and get more detailed eligibility or program information, particular if there are unique financial qualifications or concerns that a lender may need to take into consideration when evaluating financial product offerings.
It turns out, the IRRRL was enacted 40 years ago and signed into law by President Jimmy Carter as part of the Veterans' Disability Compensation and Housing Benefits Amendments of 1980. This provision simply gives veterans the right, with some conditions, to seek a better mortgage deal from a lender. If your credit has improved, or the interest rate market has changed, it might lower your monthly mortgage payment. There is no promise that you can get a lower interest rate. If you do, it's no thanks to Congress.
It appears the ad greatly overstated the "ample" and "generous" relief. The LowerMyBills page cited by the company spokesman lists the chief benefits of the IRRRL as "less paperwork" and "less eligibility requirements" in completing the refinance process:
An IRRRL or VA Streamline Refinance can only be used to refinance an already existing VA Loan. With refinancing traditional mortgages, there is a lot of paperwork. Some lenders can make the paperwork aspect of refinancing mortgages much easier through their own internal process and technology. They can simplify the refinancing process to the best of their ability, but there will still be some mandatory requirements that no one will be able to avoid.

With a VA Streamline Refinance, the amount of paperwork is greatly reduced, which is great news for both the borrower and the lender. A VA Streamline Refinance does not require the borrower to get a new home appraisal, a new credit report, or a new Certificate of Eligibility (COE). With less obstacles, lenders can help homeowners refinance to a lower rate quickly so that they can start reaping the benefits almost immediately.
For the official version of the IRRRL, visit the FDIC website here.
The various versions of the ad - which you can see in the ad library - each suggest veterans can "pay off their house rapidly" with this mythical relief program.
Besides that, more than a few veterans were amused by the version featuring the fighter jet flyby. Perhaps the ad's designer is not a military veteran and did not realize they were featuring Russian MIg-29s and not American jets: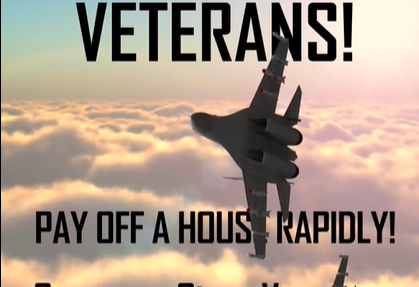 This is a Russian Mig-29: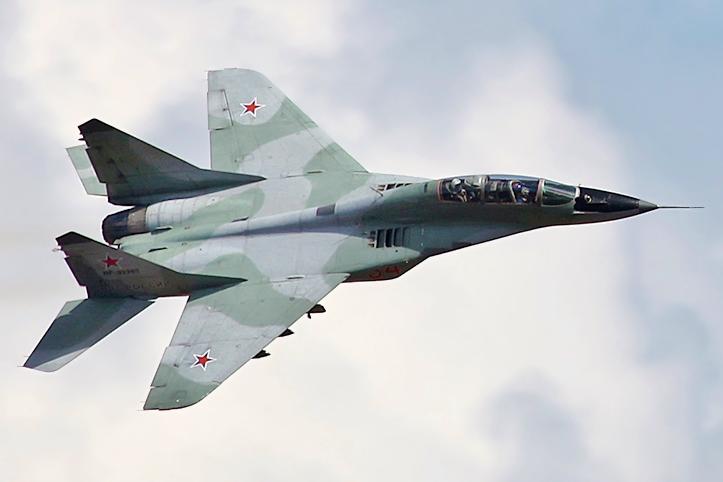 If you are going to target U.S. military veterans, it would be best not to target them with Russian fighters.