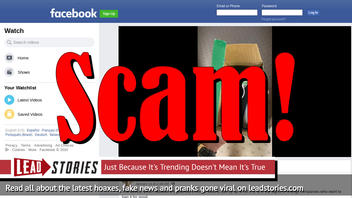 Does a device help reduce a household's overall electric use by up to 89.9%? No, that's not true: The unit is a scam. The caption stated that the device "is in the sights of energy companies who want to ban it for good," but this claim cannot be substantiated.
The claim originated from a post (archived here) published by Ram Industries, Inc under the title "Energy Companies Are Trying to Outlaw This Device." It opened:
The device, which reduces a household's overall electric use by up to 89.9%, is in the sights of energy companies who want to ban it for good.
Users on social media only saw this title, description and thumbnail:
Ram Industries, Inc, the company posting the video on Facebook, is not a technology company but is listed as a marketing agency in Canton, Ohio. The video has thousands of shares and engagements and dozens of comments, but the poster is blocking negative feedback from being seen.
An advertorial from directnewsdaily.com claimed the device can help consumers "save hundreds to thousands of dollars every year on their electric bills." According to the advertisement, users only need to plug the "electricity saving box" into the outlet closest to a breaker box, and it will start saving electricity.
There is no proof to support these claims. The unit will be drawing electricity - not reducing it - and there is no way it can bypass the many devices, appliances and technology apparatuses that are plugged into a user's other wall units.
The site calls the device an ÖkoWatt and appears to be an affiliate marketing campaign. Other listings call the unit an EcoWatt. The branding is not visible on the device seen in the video.
The ad included a picture that it claims is of the founders photographed at a tech expo in Berlin. However, the photo was stolen from a real startup called Cybus, which creates software to manage enterprise IT systems and has nothing to do with this device.
The ad offered a link for orders, but the website no longer exists. The marketing campaign does take orders, and an ÖkoWatt will set users back about $40. Regardless, the device is a scam that will leave buyers with less money in their wallets and with a piece of plastic using electricity that could actually increase their monthly bills.