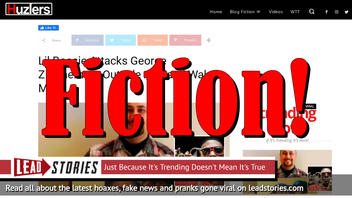 Did Lil Boosie attack George Zimmerman outside a Walmart in Miami, Florida? No, that's not true: Even though the rumor has gone viral in recent days, it was based on a 2014 satirical story making the same claims. The rapper - now known as Boosie Badazz - has taken to social media to refute the falsehood.
The claim originated from an article (archived here) published by Huzlers.com on March 14, 2014, under the title "**Breaking News** Lil Boosie Attacks George Zimmerman Outside a Miami Wal-Mart." It opened:
MIAMI - Lil Boosie apparently got into a very violent fight with George Zimmerman, Lil Boosie was in prison during the entire Treyvone Martin case but was informed about the trial by his manager who believed George Zimmerman "Got Away with murdering a young innocent child" as he put it. This morning after seeing each other at Wal-Mart in Miami. Lil Boosie allegedly knocked Zimmerman "out cold" and was rushed to a hospital after he began suffering a seizure.

Lil Boosie, from Baton Rouge, Lousiana, was visiting Miami for quick interview with a local radio station.

According to witnesses, Boosie spotted Zimmerman and said "Hey, you that fat a*s n*gga who killed Trayvon right?" Boosie violently approached Zimmerman. Zimmerman appeared to be "reaching for his gun", according to witnesses. Although, Zimmerman is being hospitalized, Boosie suffered injuries as well, including a busted lip and nose.
At the time it was first published in 2014, the story contained a disclaimer at the bottom of the page:
Huzlers.com is a combination of real shocking news and satire news to keep its visitors in a state of disbelief.
On January 13, 2020, the rumor resurfaced online when Huzlers.com published a new article with the same information word-for-word. This time, however, the disclaimer is less visible to readers, who have to click "About us" in the footer to learn:
Blog Fiction - A combination of satirical and fictional content created in such a complex way that it could not conveniently be presented or represented anywhere else but Huzlers!
The made-up story alleges the rapper got into a fight with Zimmerman, who was acquitted of the 2012 killing of unarmed African-American teenager Trayvon Martin in Sanford, Florida.
In response to the rumors, Boosie posted this message to social media:
Huzlers styles itself as a "fauxtire" website. According to Splinter News, the site is run by Pablo Reyes and David Martinez. Buzzfeed reported that Reyes is involved with several other fake news websites. They tend to shy away from political stories, opting instead to write for a more "urban" audience, with stories about rappers, criminals and celebrities.
NewsGuard, a company that uses trained journalists to rank the reliability of websites, describes huzlers.com as:
A self-described satire website that publishes false stories on urban culture and celebrities that have often been mistaken for real news.
According to NewsGuard, the site does not maintain basic standards of accuracy and accountability. Read their full assessment here.
We wrote about Huzlers.com before; here are our most recent articles that mention the site: