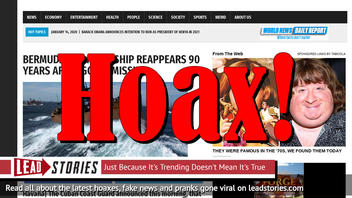 Did a ship reappear 90 years after going missing in the Bermuda Triangle? No, that's not true: The story was fabricated by a Canadian entertainment website that publishes fictional stories about bizarre crimes, weird sexual acts, and other made-up events. The SS Cotopaxi remains lost at sea, and claims that Cuban authorities intercepted it are completely untrue.
The claim originated from an article (archived here) published by World News Daily Report on May 18, 2015, under the title "BERMUDA TRIANGLE: SHIP REAPPEARS 90 YEARS AFTER GOING MISSING." It opened:
Havana | The Cuban Coast Guard announced this morning, that they had intercepted an unmanned ship heading for the island, which is presumed to be the SS Cotopaxi, a tramp steamer which vanished in December 1925 and has since been connected to the legend of the Bermuda Triangle.

The Cuban authorities spotted the ship for the first time on May 16, near a restricted military zone, west of Havana. They made many unsuccessful attempts to communicate with the crew and finally mobilized three patrol boats to intercept it.

When they reached it, they were surprised to find that the ship was actually a nearly 100-year old steamer identified as the Cotopaxi, a name famously associated with the legend of the Bermuda Triangle.
Ever since this satirical story was published in 2015, it has been copied and picked up by dozens of other websites, many of which present the information as real, omitting the disclaimers that World News Daily Report publishes hoaxes.
The compelling claim, albeit a made-up one, prompted mainstream news outlets, including Associated Press and London's Daily Express, to fact-check the reports. On June 1, 2018, AP reported:
In 2017 when the sighting was reported, Petty Officer 3rd Class Eric Woodall, a spokesman for Miami's U.S. Coast Guard office, told the AP that his agency had received no reports of the S.S. Cotopaxi being recovered. The United States Coast Guard Seventh District in Miami said Thursday that the statement from 2017 still stands.
The website World News Daily Report is a humor website specialized in posting hoaxes and made up stories. The disclaimer on their website is pretty clear about that even though readers have to scroll all the way down the page to find it:
World News Daily Report assumes all responsibility for the satirical nature of its articles and for the fictional nature of their content. All characters appearing in the articles in this website - even those based on real people - are entirely fictional and any resemblance between them and any person, living, dead or undead, is purely a miracle.
On March 20, 2019, the site added a new header that included the slogan "Where facts don't matter" to make it clearer to casual visitors the published content is fictional:

The site often uses images stolen without attribution from real news websites, sometimes showing real people who have nothing to do with the story. For example, here:
It is run by Janick Murray-Hall and Olivier Legault, who also run the satirical Journal de Mourréal, a site spoofing the (real) Journal de Montéal. Very often, their stories feature an image showing a random mugshot found in a gallery on the Internet or a stock photo website superimposed over a background of flashing police lights or crime scene tape.
NewsGuard, a company that uses trained journalists to rank the reliability of websites, describes worldnewsdailyreport.com as:
A website that publishes hoaxes and made-up stories that are often widely shared and mistaken for news.
According to NewsGuard, the site does not maintain basic standards of accuracy and accountability. Read their full assessment here.
We wrote about worldnewsdailyreport.com before; here are our most recent articles that mention the site: