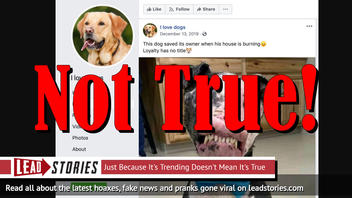 Did a dog featured in a Facebook post save its owner when his house was burning? No, that's not true: The story is not true and exploits a dog with an autoimmune disease for social media likes and engagements.
The claim originated from a post (archived here) published by "I love dogs" on December 13, 2019. It opened:
This dog saved its owner when his house is burning😞
Loyalty has no title🐶
Users on social media only saw this title, description and thumbnail:
The post claims the dog heroically saved his owner's life when his house was burning, and it suggested the dog sustained severe injuries.
However, users pointed out that the dog named Phoenix actually has an autoimmune disease. One post pleads with users not to share other fake posts about the dog: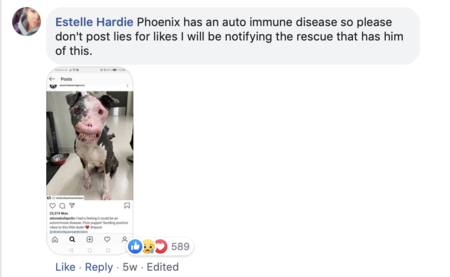 Local media reports said Phoenix was left abandoned in Collinsville, Oklahoma, in November of 2019. At last report, he was getting care at an animal clinic in Owasso. The news story helped raise more than $12,000 in donations for the dog's vet bills.