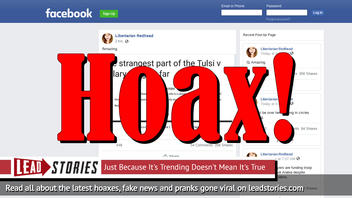 Did U.S. Rep. Tulsi Gabbard include a clause in her new lawsuit against Hillary Clinton stipulating that she does not experience "thoughts of suicide"? No, that's not true: The document seen in the post has been falsified. The word "suicide" does not appear in Gabbard's 14-page complaint.
The claim originated from a post (archived here) published by Libertarian Redhead on January 22, 2020, under the title "The strangest part of the Tulsi v Hillary filing by far." It opened:
Parties

5. Tulsi Gabbard is a natural person who is a citizen and domiciliary of the State of Hawaii. She has never experienced, does not currently experience, and does not expect to experience, thoughts of suicide.
Users on social media saw this:
The "excerpt" from Gabbard's legal complaint has been doctored. The full document shows that only the first sentence appears under the "Parties" header. A search for the term "suicide" results in no matches in the entire document:

For years, conspiracy theorists have advanced the notion that former U.S. President Bill Clinton and his wife are responsible for dozens of deaths of their associates, including deputy White House counsel Vince Foster, whose death in 1993 was ruled a suicide. Some people also attempt to pin the death of convicted sex offender Jeffrey Epstein on the Clintons. On August 16, 2019, the New York City medical examiner ruled Epstein's death in a federal jail cell a suicide, but conspiracy theories continue to spread.
On January 22, 2020, Gabbard, a U.S. Congresswoman from Hawaii, sued Hillary Clinton for defamation over comments Clinton made that allege Gabbard is a "Russian asset."
Gabbard is also a 2020 presidential candidate. The suit, filed in federal district court in Manhattan, alleges Clinton lied about Gabbard "publicly, unambiguously, and with obvious malicious intent" with her comments in October of 2019 to try to hurt Gabbard's campaign.
As CBS News reported, Clinton was discussing Russian interference in the 2020 election in a podcast interview. She said:
'They're also going to do third party again. And I'm not making any predictions, but I think they've got their eye on somebody who's currently in the Democratic primary. And they're grooming her to be the third party candidate,' Clinton said presumably about Gabbard, referring to Russian efforts to support third party candidate Jill Stein in 2016.

'She's the favorite of the Russians, they have a bunch of sites and bots and other ways of supporting her so far, and - that's assuming Jill Stein will give it up, which she might not, because she is also a Russian asset - yeah, she's a Russian asset! I mean totally!' Clinton continued. Clinton supporters have alleged that Stein served as a spoiler in the 2016 election.
In the podcast, Clinton never actually mentioned Gabbard by name. Clinton spokesman Nick Merrill addressed the comments on Twitter on October 22, 2019:
I too am tired of talking about this, but let's again set the record straight. HRC speculated that the only way the GOP is going to win in states where Trump can't hit a 50% majority is to 1) Suppress the vote, as they do widely and routinely, & 2) Bank on the 3rd party spoiler.

-- Nick Merrill (@NickMerrill) October 22, 2019
Gabbard has struggled in polling and fundraising, and she missed the last two Democratic debates.
When asked about the lawsuit, Merrill told The Daily Beast, "That's ridiculous."