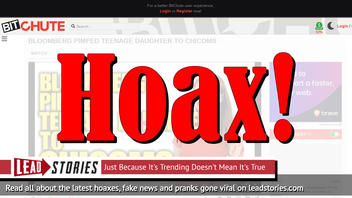 Did Mike Bloomberg once boast that he pimped his teenage daughter to Chinese businessmen during a business trip to China? No, that's not true: The claim is based on a Bloomberg quote in a 1999 magazine article in which Bloomberg said that, when his daughter traveled with him to China on a business trip, "he got her dates in every city in China" to prevent the then-16-year-old from being bored. He never said the dates were with "Chinese businessmen" or that he was "pimping" her.
Videos making this claim also accused the Democratic presidential nominee of engaging in pedophila with Jeffrey Epstein on his private plane and island. No support for the claim was given.
The claims originated from a video published by David Zublick Channel on February 24, 2020, titled "Bloomberg Pimped Teenage Daughter To Chicoms" (archived here) which opened:
Breaking Now: Democrat presidential candidate Mike Bloomberg pimped his underage daughter to Chinese communist businessmen. And, according to Jeffrey Epstein's "little black book," he flew on the Lolita Express and partied on Pedo Island, where he originally earned the name "Mini Mike," that moniker has nothing to do with his stature.

Is this the man you want running our country for the next four years? The truth is about to be unsealed!
Users on social media only saw this title, description and thumbnail:
Bloomberg Pimped Teenage Daughter To Chicoms
Video host David Zublick claimed that "Bloomberg boasted about pimping his then-16-year-old 'busty' - that's his terms, not ours - to the Chicoms." He alleged that Bloomberg said that "to keep her from being bored, as it were, he made her available to many high-level Chinese businessmen." Zublick shared this quote from a February 1999 article in Wired Magazine titled Michael Bloomberg's Terminal Velocity:
"My daughter is tall and busty and blonde," Michael Bloomberg is telling a table of Boston College graduates. "We went to China together. And what's a 16-year-old going to do on a business trip?" He pops another carefully buttered piece of bread in his mouth. "So I got her dates in every city in China." Remembering that I'm also at the table, he glares in my direction. "That's off the record!" he barks. It's typical Mike Bloomberg, wanting to have it both ways: imperious man of the people, coarse billionaire, earthy business leader, accessible control freak.
While a father talking about his daughter being "busty" may seem creepy, Bloomberg's words were not a boast about "pimping" his daughter. There is nothing to suggest the "dates" were sexual or with Chinese businessmen. It may not be unusual for a wealthy and well-connected father to arrange for his daughter to meet other teenagers, perhaps the children of those he would meet with, while traveling far from home.
The host said that Bloomberg "figures prominently in Jeffrey Epstein's little black book," which he caimed proved that Bloomberg flew on Epstein's private jet - known in the tabloids as the "Lolita Express" - and engaged in sex with underage girls on Epstein's private island. The book, which contains phone numbers and email addresses for a who's who of New York high society, celebrities and political figures, was made public several years ago by a reporter for the now-defunct website Gawker. Here is the page that references Michael Bloomberg: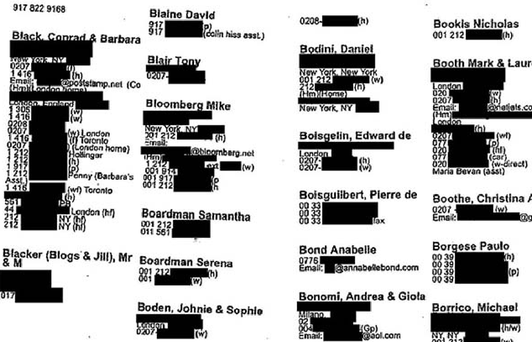 We found nothing on that page to indicate Bloomberg had sex with underage girls on Epstein's island or that he ever flew on Epstein's plane. We've embedded a copy of every page in the book below so that you can search it yourself:
Jeffrey Epsteins Little Black Book Redacted by Alan Duke on Scribd
We also could not find Bloomberg's name in the infamous passenger manifests for Epstein's fleet of aircraft. We embedded those documents below for your perusal:
Epstein Flight logs by Alan Duke on Scribd
Despite the lack of evidence that Bloomberg was involved in sex trafficking or pedophilia with Epstein, Zublick makes another scandalous claim. He alleged that Bloomberg had a notoriously small penis, which is why President Trump refers to the former New York mayor as "Mini Mike."
Trump learned through several sources that the nickname 'Mini Mike' was bestowed upon by him by Jeffrey Epstein and several of the underage girls that Mike Bloomberg enjoyed company with during the course of time that he hung out with Jeffrey Epstein. Mini Mike, of course, not referring to his height, but the size of his manhood.
Lead Stories has not attempted to verify this claim.
Zublick uses his claims to sell subscriptions to a skin care products line which includes an anti-aging cream. If you sign up for just $140.90 a month subscription, Zublick will send you "the complete Jeffrey Epstein Dossier," including the "little black book." Of course, Lead Stories just gave it to you for free.