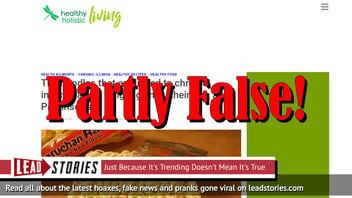 Are instant noodles linked to chronic inflammation, weight gain, Alzheimer's and Parkinson's? No, that's partly false: While ramen noodle consumption has been linked to heart diseases and diabetes in women in at least one study, there is no evidence to suggest eating the noodles can increase the risk of Alzheimer's and Parkinson's diseases.
The claims originated from an article (archived here) published by Healthy Holistic Living on September 6, 2016, under the title "The noodles that are linked to chronic inflammation, weight gain, Alzheimer's and Parkinson's." It opened:
Instant noodles are a popular go-to lunch or dinner for those who are strapped for time (or cash), like college students. While you probably don't consider them a health food, you may think they're not that bad, or, at least, not as bad as eating a burger and fries or a fast-food burrito.

In a first-of-its-kind experiment, however, Dr. Braden Kuo of Massachusetts General Hospital may make you reconsider your love of instant noodles (assuming you have one).

He used a pill-sized camera to see what happens inside your stomach and digestive tract after you eat ramen noodles, one common type of instant noodles. The results were astonishing...
Users on social media saw a similar claim making the rounds on Facebook:
Both posts cite a Journal of Nutrition study, first published online on June 25, 2014, that concluded instant noodle intake was associated with an "increased prevalence of metabolic syndrome in women." According to the National Heart, Lung, and Blood Institute:
Metabolic syndrome is the name for a group of risk factors that raises your risk for heart disease and other health problems, such as diabetes and stroke.
A small point: The Healthy Holistic Living article from 2016 called it a "new" study, but it was actually published two years earlier.
Regardless, the Journal of Nutrition study did not refer to Alzheimer's or Parkinson's diseases.
The article also mentioned an experiment by Dr. Braden Kuo of Massachusetts General Hospital that involved deploying a pill-sized camera to see what happens inside one's stomach after eating ramen noodles.
Joe Schwarcz at McGill University in Montreal, Canada, debunked the experiment in 2017, labeling it "pseudoscience." He concluded:
This doesn't have much significance since nutrient absorption takes place in the small intestine after food has been broken down in the stomach, but how long that breakdown takes is not important. Why the processed noodles take longer to disintegrate in the stomach can have many reasons. The moisture and fat content of the noodles can be quite different, the gluten content which depends on the kind of flour used and the amount of kneading makes a difference, as does the shape of the noodles. But one thing that will not have an effect is the trace amount of a preservative known as tertiary butyl hydroquinone or TBHQ that may be present in some instant noodles.

Yet this is the ingredient that generated the nonsensical information that is being spread around the web. The claim is that it is the preservative that prevents the noodles from being broken down and the failure of the noodles to be broken down as quickly as fresh noodles represents some kind of danger to health. Both of these claims are absurd. The preservative, which in fact is not commonly used in noodles, prevents fat from going rancid, which is a process that can indeed produce toxins. The amount of TBHQ used is trivial, 0.02% by weight of the fat content of the food. That translates to a few milligrams, a tiny fraction of the amount that can cause any harm in an animal.
Are ramen noodles a healthy lunch choice? Not necessarily, but as Schwarcz noted, the noodles are not "deadly." Both posts have some truths, but they also have some falsehoods.
NewsGuard, a company that uses trained journalists to rank the reliability of websites, describes healthy-holistic-living.com as:
A website that says it "supports people with a passion for holistic living" that has promoted unsubstantiated cancer cures and deleted false content without publishing corrections.
According to NewsGuard, the site does not maintain basic standards of accuracy and accountability. Read their full assessment here.
Lead Stories previously debunked a similar claim that the noodles can cause cancer. You can read about that here: