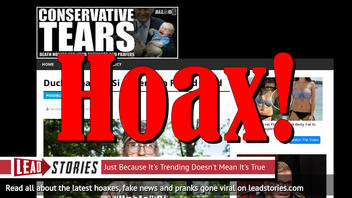 Was Duck Dynasty star Si Robertson found dead? No, that's not true: Uncle Silas Robertson is not dead but was the target of a well-known hoax website. A story went viral claiming that the A&E Television star had died - but the truth is he is still "alive and kickin y'all!" The website that posted the story is part of a satire network, and this site is dedicated to reporting "Death Hoaxes for your thoughts and prayers."
The claim appeared in an article published by Conservative Tears on March 10, 2020, and it was titled "Duck Dynasty's Si Robertson Found Dead" (archived here). It opened:
Shocking news from the Duck Dynasty compound. Silas Robertson, also known as Uncle Si, was found unresponsive in the woods just a few miles south from the DD equipment warehouse.

Family spokeswoman Sandy Batts told reporters: "It is with much sadness to announce that Uncle Si is gone. They finally got him. Those bastards."

Little is known as to "who" she is referring to in the statement.
Users on social media only saw this title, description and thumbnail:
He's leaving his part of the Dynasty fortune to Trump 2020. Such a patriot, even in death.
As you read further into the story claiming Uncle Si died, which earned 51,000 shares on Facebook, it escalates quickly from plausible to outlandish - noting that "Fowl play is suspected" after describing the odd way the body was found.
Rumors are swirling around the holler regarding Uncle Si's cause of death. There were strange semi-circle marks all over his mangled body, indicating he was attacked. Feathers were left in an odd patten around the scene, as if to mock his career as a duck caller bobble pusher.
A full investigation is underway to determine cause of death. Fowl play is suspected.
Robertson's Facebook page shut down news about his death.
Robertson's About tag on his Facebook page noted that the Louisiana resident is behind the page even if he shuns technology. It reads:
This page is moderated by Duck Commander and we post on Si's behalf (because he obviously does not want to operate a computer). We do get Si's input.
Si Robertson is alive, and with his sense of humor intact.
The site Conservaite Tears is part of the "America's Last Line of Defense" network of satire websites run by self-professed liberal troll Christopher Blair from Maine along with a loose confederation of friends and allies. Blair has been in a feud with fact-checking website Snopes for some time now and has also criticized other-fact checkers in the past who labeled his work "fake news" instead of satire. In reaction to this, he has rebranded all his active websites and Facebook pages so they carry very visible disclaimers.
Every site in the network has an about page that reads (in part):
About Satire
Before you complain and decide satire is synonymous with "comedy":

sat·ire
ˈsaˌtī(ə)r
noun
The use of humor, irony, exaggeration, or ridicule to expose and criticize people's stupidity or vices, particularly in the context of contemporary politics and other topical issues.

Everything on this website is fiction. It is not a lie and it is not fake news because it is not real. If you believe that it is real, you should have your head examined. Any similarities between this site's pure fantasy and actual people, places, and events are purely coincidental and all images should be considered altered and satirical. See above if you're still having an issue with that satire thing.
Articles from Blair's sites frequently get copied by "real" fake news sites that often omit the satire disclaimer and any other hints the stories are fake. Blair has tried to get these sites shut down in the past, but new ones keep cropping up.
Here is a video of Blair explaining how his process works:
If you are interested in learning more about Blair and the history of his sites, here is something to get you started:
STORY UPDATED: check for updates below. Yesterday Eli Saslow at the Washington Post wrote a fantastic article about Christopher Blair, a man from Maine who has been trolling conservatives and Trump supporters online for years and occasionally even made a living out of it.
If you see one of his stories on a site that does not contain a satire disclaimer, assume it is fake news. If you do see the satire disclaimer, it is, of course, also fake news.
NewsGuard, a company that uses trained journalists to rank the reliability of websites, describes conservativetears.com as:
A hoax website that publishes false stories about celebrity deaths.
According to NewsGuard, the site does not maintain basic standards of accuracy and accountability. Read their full assessment here.
We wrote about conservativetears.com before, here are our most recent articles that mention the site: