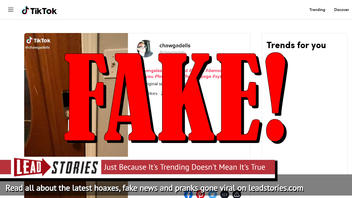 Did police threaten a West Hollywood, California, homeowner with jail if he removed a tent erected in his yard by a homeless person? No, that's not true: West Hollywood laws allow for the removal of trespassers from private property, including homeless people who erect tents.
A Los Angeles County sheriff's deputy who specializes in dealing with complaints about homeless intruders in West Hollywood told Lead Stories that a resident can simply call their station, and deputies would remove the trespassers. The deputy said they investigated the origins of a video making the claim and concluded that the person who posted it on TikTok lived in Houston, Texas - not California. The person who uploaded the video to TikTok told Lead Stories "It was just a joke," and said he would call the West Hollywood sheriff's station to apologize.
The claims originated from a video (archived here) posted on TikTok by @chawgadells on February 29, 2020, along with the hashtags #losangeles #hollywood #liberal #democrat #foryou #foryoupage #foryourpage #xyzcba. The video featured a man opening a door to a yard in which a small orange tent was sitting next to the door. The man said:
Let me show you the craziest thing you've ever seen. Ok. This is my house on West Hollywood. Look, this is a tent from two homeless guys. I came home the other day and I'm like, 'Hey guys, y'all got to go.' Inside my f--king gate, they jumped my wall and they've got their shit everywhere. 'Now, hey guys, you've got to go.' And I call the cops. The cops get here, and they say 'Hey, if you touch their shit, we're going to take you to jail for f--king up their property.' And I'm like 'Dude, it's on my property.' And they're like 'Doesn't matter. Don't touch their shit.' All f--king night, these mother-f--kers are f--king all night and being loud as f--k, getting f--ked, having parties and shit. You f--king libtard f--ks.
This is what social media users saw AFTER it was deleted by the account owner:
This is an example of a tweet that shared the fake video:
EXPLICIT WARNING ⚠️:

Look at the homeless epidemic in Los Angeles due to failed liberal policies, high taxes, and high crime.

Police are now demanding citizens allow homeless people to camp on their private property, threatening this man with arrest if he moves them. pic.twitter.com/2uBHBCZVuj

-- Michael Coudrey (@MichaelCoudrey) March 1, 2020
When Lead Stories called the West Hollywood sheriff's station to ask about the video, a deputy immediately knew why we were calling. The deputy said they had seen it and investigated.
"I researched him, and he is from Houston," the deputy said of @chawgadells. "It doesn't even look like West Hollywood." In fact, the account profile described him as "Boomer/Millennial/Chillin Houston, Texas."
An internet search for "chawgadells" also revealed the account belong to Shawn Adams in Cypress, Texas.
Lead Stories reached Adams by phone. When we informed him that his video was going viral across several platforms, he said "Awesome." When we suggested the spread of misinformation about actions of law enforcement officers that may cause people to distrust them, he replied "It's just a joke."
He called TikTok "a kiddie app," saying "It's just internet." Adams was reluctant to share details about the origins of the video, indicating he needed someone else's appoval before making any disclosures. He did request the number for the sheriff's station so that he could apologize and "let them know the whole deal."
Adams then deleted his video, but many copies remained online. He has also changed his TikTok account name.
The original video has been widely viewed and shared on TikTok, Twitter and Facebook with comments denouncing liberal laws in California. However, the video misrepresents the laws. While the West Hollywood government does take pride in compassionate treatment of the less fortunate, the ordinances respect the rights of property owners to prevent trespassing. A resident can call the sheriff's station to report a trespasser, and a team would be sent to the location to remove the intruder, according to these guidelines titled "Our response to homelessness."
Weho Care Homeless guidelines by Alan Duke on Scribd
You can view the video - with the disclaimer that it is fake - on the Lead Stories TikTok channel: