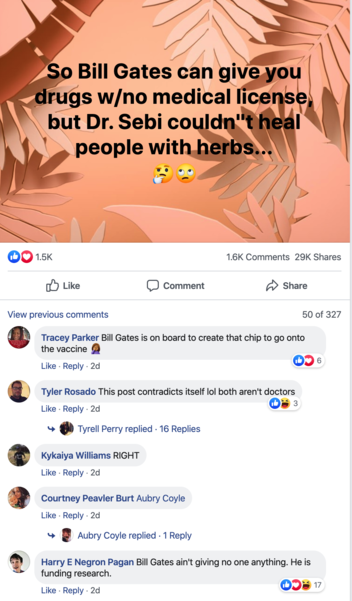 Is Bill Gates free to prescribe drugs while the late herbalist, "Dr. Sebi," was not allowed to heal people with herbs? No, that's not true: Gates, the founder of Microsoft Corporation and the namesake of the charitable Bill and Melinda Gates Foundation, is not a medical doctor, so he cannot prescribe drugs. But the doctors hired by the foundation can, because they actually have medical licenses. Sebi, by contrast, was an herbalist, who was barred from practicing in parts of the United States.
The claim about Gates and Sebi -- whose real name was Alfredo Bowman -- originated in a post (archived here) on Facebook on April 16, 2020.
"So Bill Gates can give you drugs w/no medical license, but Dr. Sebi couldn't heal people with herbs...."
This is what the post looked like on Facebook at the time of writing: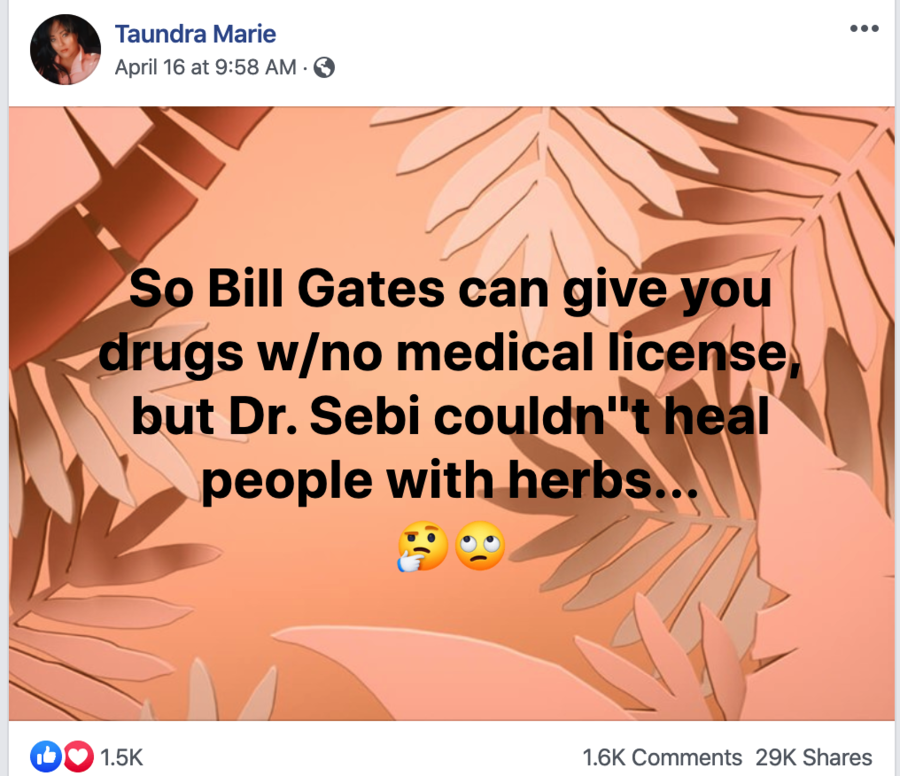 As for Sebi, he was not a medical doctor, although he made many claims he could cure a variety of diseases with herbs -- claims that ended with an injunction in New York.
In a YouTube interview with Washington, D.C., talk show host Rock Newman, for example, the Honduran herbalist said his line of foods cured everything from chapped skin to AIDS. It was his claims of curing AIDS, lupus and leukemia that landed him in New York State Supreme Court for practicing medicine without a license.
The New York State Supreme Court decision -- an injunction against Bowman from practicing -- is here. The lawsuit, brought by the New York attorney general, barred Sebi from making therapeutic claims about his lines of vegan foods and herbs. Though he said he was a humble country man, he had three companies: Ogun Herbal Research Institute, USHA Herbal Research Institute and Fig Tree Products Company.
The court forbade Bowman from diagnosing, treating or prescribing for any human disease, pain, injury, deformity or physical condition without a valid license to practice medicine or other lawful authorization to practice medicine issued by the New York State Department of Education. He died in Honduras in 2016, according to the website for Dr. Sebi's Cell Food.
The injunction also forbade advertising by the companies that "their services or their products can cure, mitigate or in any way relieve or alter the course of AIDS, herpes, leukemia, sickle cell anemia, lupus or any other human disease, pain, injury deformity or physical condition."
The companies were ordered to pay refunds to unsatisfied customers.
An online article by Stephen Barrett, M.D. states:
Sebi established the USHA Research Village in La Ceiba, Honduras, which offered the following: "Natural electric therapy coupled with our intracellular chelation; thermal baths with a PH 8.9, one of the highest attainable levels known; natural saunas that use the vapor from volcanic activity and compounds made from fresh herbs."
The Facebook posts were filled with comments for and against, with some commenters pointing out the obvious -- that neither are, or were, medical doctors able to prescribe drugs: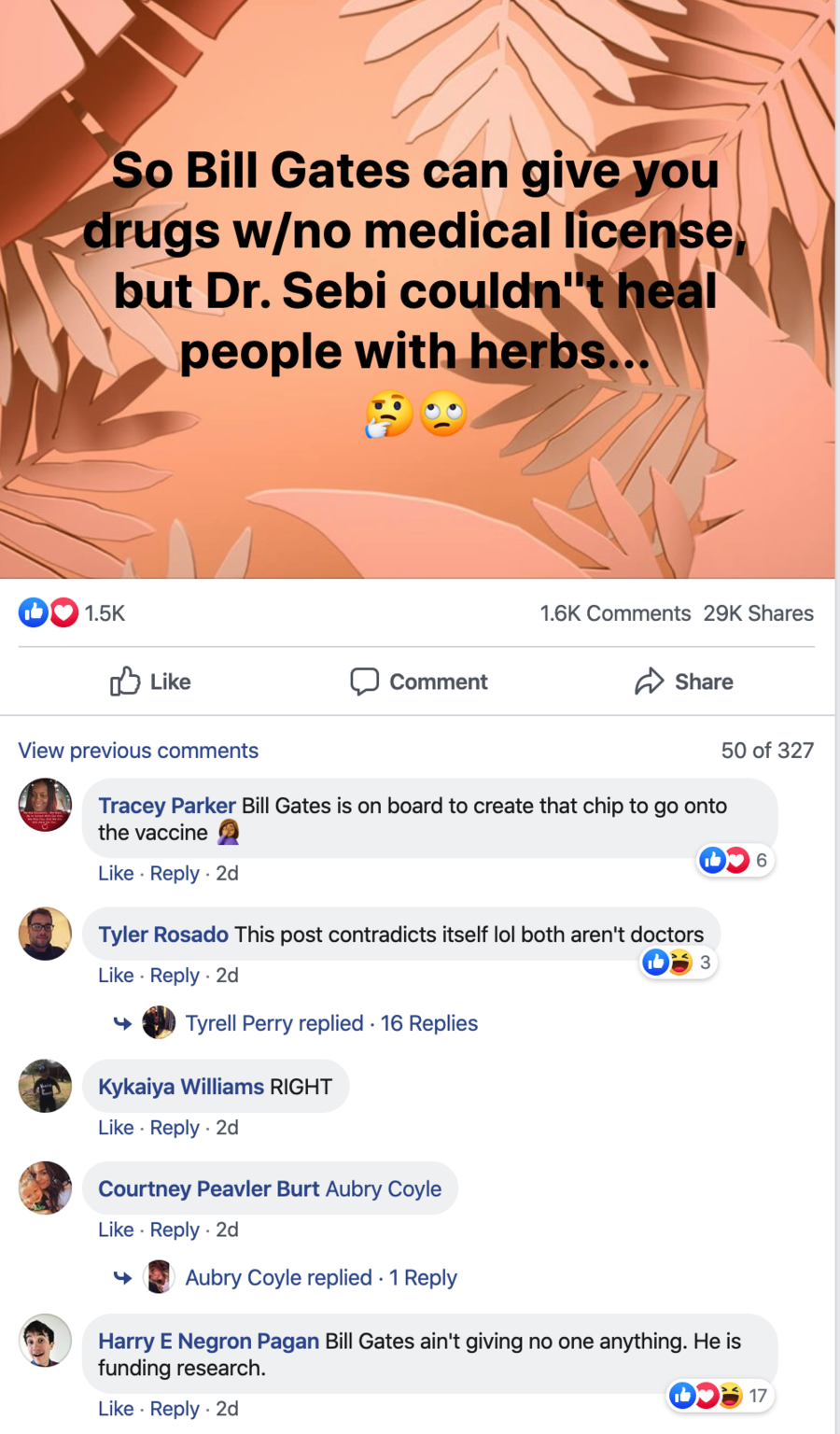 The rumor about Gates is just one of many that have circulated in recent years, including allegations he somehow is behind a scheme to lab-make the novel coronavirus that has been declared a global pandemic.
This one, about practicing medicine, comes on the heels of another accusing Gates of having an insidious plan to insert chips in people to track their everyday doings in a bid to hike his current billions in worth through cryptocurrency. The patent, WO2020060606 contains the numbers "666," the biblical mark of the devil, and also contains the letters WO. Some Gates critics claim WO stands for the "World Order."
While the patent application by Microsoft Technology Licensing LLC does deal with tracking human activity and cyrptocurrency, there is no mention in the application of implanting microchips in people. Here is the abstract:
Human body activity associated with a task provided to a user may be used in a mining process of a cryptocurrency system. A server may provide a task to a device of a user which is communicatively coupled to the server. A sensor communicatively coupled to or comprised in the device of the user may sense body activity of the user. Body activity data may be generated based on the sensed body activity of the user. The cryptocurrency system communicatively coupled to the device of the user may verify if the body activity data satisfies one or more conditions set by the cryptocurrency system, and award cryptocurrency to the user whose body activity data is verified.
It's a lot of technical jargon, but it boils down to a patent for wearable technology that would track human activity and allow it to be matched to cryptocurrency.
Lead Stories has debunked rumors that India is suing Gates, that he and the Vatican have plans to depopulate the world with vaccines, that he has access to people's DNA and ownership of the World Health Organization.