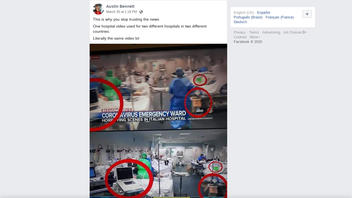 Did CBS News use video from a hospital in Italy during the coronavirus outbreak, claiming it was footage from New York City? Yes, that's true: Claiming to show footage of an overwhelmed hospital in New York, CBS This Morning aired footage that was actually from a hospital in Italy.
The news organization claimed it was an "editing mistake" and said it had immediately removed the video from all of its platforms.
But not before the mistake went viral. The error appeared as a post (archived here) by Austin Bennett on Facebook on March 30, 2020, under the title "This Is Why You Stop Trusting The News." It opened:
This is why you stop trusting the news.
One hospital video used for two different hospitals in two different countries.
Literally the same video lol
Social media users saw this:
The photo on Facebook had a splitscreen, with the CBS footage about a hospital in Italy shown previously on ABC News.
Instead of taking CBS News' word that it was a mistake, Facebook users blamed the media company for trying to "cause a panic" amid the coronavirus outbreak. One commenter wrote:
They want to cause a panic so the house can try to pass their public protections bill that violates our constitutional right to keep and bear arms.
Online commenters quickly pointed out the duplicated footage, noting it was not from a New York City hospital but from Italy. Among other things, they noted the trash can on the right of the screen was the same in both videos, and the computer on the right was the same.
Twitter user ALX also called out CBS for using of the video.
During a Pandemic it is essential that the Media gives us real and accurate information.

It's completely irresponsible for @CBSNews to use footage from an Italian Hospital when talking about the outbreak in New York City.

This is unacceptable. pic.twitter.com/Essp4uEHle

-- ALX 🇺🇸 (@alx) March 30, 2020
Sky News first aired the story on March 22, 2020, taken by the news channel's correspondent. In its report, Sky News noted the video was filmed in "the main hospital in Bergamo, the hardest-hit hospital in Italy in the hardest-hit town in the hardest-hit province, Lombardy - and it's just plain scary."
"Bergamo is at the epicentre of the epidemic," the report stated, with a photograph that was used by both CBS This Morning and CBS News.
As for CBS News airing incorrectly on the morning broadcast, the news organization stated that the wrong footage was used because of an editing goof. But not before criticism of their error went viral.
A CBS News spokesperson told Fox News:
It was an editing mistake. We took immediate steps to remove it from all platforms and shows."