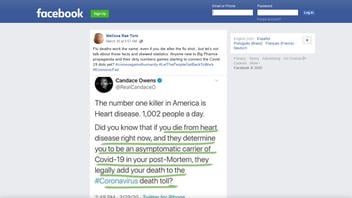 Is Big Pharma behind the COVID-19 pandemic and inflating its massive death toll to create a hoax that enriches itself? No, that's not true: The central data-gathering body, the U.S. Centers for Disease Control and Prevention, does not get its cause-of-death data from pharmaceutical manufacturers. And there is no evidence the pharmaceutical company is behind a coronavirus conspriacy.
The supposed Big Pharma conspiracy surfaced in Facebook posts like this (archived here), which read in part:

Flu deaths work the same, even if you die after the flu shot...but let's not talk about those facts and skewed statistics. Anyone new to Big Pharma propaganda and their dirty numbers games starting to connect the Covid-19 dots yet? #crimesagainsthumanity #LetThePeopleGetBackToWork #EconomicFail"
The posting then showed users a tweet copied and pasted from Candace Owens, which looked like this:
There is no evidence to support this, as medical examiners and coroners are not changing death certificates to please pharmaceutical manufacturers.
"Deaths are reported to us only by state health officials," said Benjamin N. Haynes, deputy branch chief and a spokesman at the CDC. While Big Pharma does stand to gain from potential vaccines and other products to diagnose and treat the novel coronavirus, there is no evidence that the industry is behind manufacturing the substantial infection and death rates.
Currently, the United States has the highest incidence rate of COVID-19 in the world. Also, deaths in the U.S. have surpassed 4,000 as of April 1, 2020.
Also, statistical gathering and analysis by Johns Hopkins University and the New York Times, which document every death reported in a COVID-19 database shows that the theory that other causes are just getting lumped into the coronavirus pile are incorrect. Lead Stories has written about this claim.
We published a story on April 1, 2020, that included an interview with Dr. Sally Aiken, M.D., the president of the National Association of Medical Examiners - or NAME - and a practicing medical examiner in Washington state. She said:
For decedents (dead persons) who are known to be positive for COVID-19, and who have symptoms, the vast majority have died during a hospitalization. If they were otherwise healthy, the deaths are being attributed to COVID-19 on the death certificate. The exact certification may vary from jurisdiction to jurisdiction.
Aiken said the Centers for Disease Control and Prevention had issued guidance for death certification on its website. According to its guidance, dated March 4, 2020:
It is important to emphasize that Coronavirus Disease 2019 or COVID-19 should be reported on the death certificate for all decedents where the disease caused or is assumed to have caused or contributed to death.
Aiken also noted that individuals with underlying medical conditions are in the higher-risk groups for the coronavirus:
As most people are aware, people pre-existing disease like heart failure, and COPD, seem to be at higher risk for death due to COVID-19. If those individuals are positive for COVID-19 and have symptoms, COVID-19 is typically being listed on the death certificate as the cause of death, with their other diseases listed as contributory. This helps all of us, as we learn what the natural disease risk factors for COVID-19 death are. It is not a conspiracy, or any different than what occurs during non-COVID-19 times. (If someone dies of Influenza A or B, contributory causes are often listed on the death certificate as well.)
The post also refers to "asymptomatic carriers" of COVID-19 being identified on death certificates as having died of the coronavirus. But Aiken pointed out that this suggestion is flawed due to the lack of widespread testing:
As most people are aware, very few asymptomatic people in the U.S. have been tested for COVID-19. In the vast number of cases, living individuals are being tested because they have symptoms. Medical examiners and coroners are doing the same thing. We are performing autopsies on homicides, suicides, traffic accidents, etc. These decedents are not being tested for COVID-19 as a matter of course. Medical Examiners and Coroners are testing decedents who had symptoms, but were undiagnosed during life. MEs and Coroners are not identifying any 'asymptomatic carriers,' because we aren't testing for them, as it is not pertinent for death certification.
The New York Times publishes a county-by-county report. And this is the national report page, scrutinized by the National Institutes of Health (NIH) and state medical examiners.
Still, there is no argument that many major companies stand to profit from the pandemic in the long run. For example, executives from the drugstore chain CVS and My Pillow CEO Michael Lindell joined President Trump at the White House Rose Garden to talk about plans for the upcoming weeks, according to The Washington Post on March 31, 2020. The story opened: