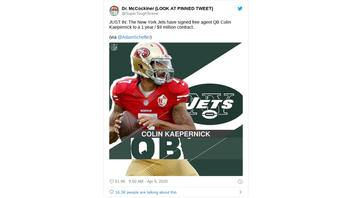 Did the New York Jets sign free agent Colin Kaepernick to a one-year, $9 million contract? No, that is not true: Kaepernick was not signed to a new deal with the NFL's Jets. A Tweet was sent from an account with a photo that looked like ESPN's SportsCenter logo -- but with the name "SuperToughScene" -- claiming Kaepernick signed with the team. The account, however, specializes in parody.
The claim appeared as tweet (archived here) published by SuperToughScene on April 9, 2020, under the title "JUST IN: The New York Jets have signed free agent QB Colin Kaepernick to a 1 year / $9 million contract." It opened:
JUST IN: The New York Jets have signed free agent QB Colin Kaepernick to a 1 year / $9 million contract. (via @AdamSchefter)
This is what the post looked like on Twitter at the time of writing:
The tweet is fake, and the account notes that it is a "PARODY." Still, Kaepernick was quickly trending on Twitter shortly after the fake Tweet, which gathered10,000 likes and over 3,700 shares.
ESPN Senior NFL Insider Adam Schefter was tagged in the Tweet as reporting the news, but his Twitter account did not report that Kaepernick had signed with the Jets.
Kaepernick, who hasn't played in the NFL since 2016, was let go by the San Francisco 49ers following his protest of police brutality by taking a knee during the national anthem before games.
Heavy.com reported My Fox 8 out of North Carolina published a story about Kaepernick returning to the NFL, but the station deleted the post.
Fox 8 owned up to their mistake, publishing a new story noting:
"FOX8 reported the false information in error."
The news station was called out for reporting the fake story on Twitter.
You just hate to see your local Fox News channel get duped on a Kaepernick signing. pic.twitter.com/DKjGOB8jRU

-- Andrew (@Mothena) April 9, 2020
Kaepernick did not tweet about the false claim.
In February 2020, the former NFL star -- who did work out last year for some teams but was never signed -- announced he was writing a book that would be released through his own publishing company, Kaepernick Publishing. In a statement, he said:
"I want to tell the story of my evolution, and the events that led me to protest systemic oppression, in hopes that it will inspire others to rise in action."
The New York Times reported his memoir would reveal "the life experiences that led him to risk his career as a star N.F.L. Super Bowl quarterback in one silent act of protest."