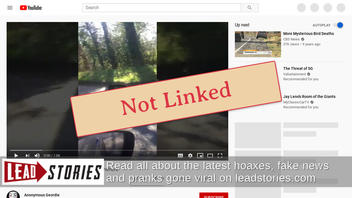 Did switching on 5G cause ducks to die "everywhere", as an online video suggests? No, that's not true: The fifth-generation cellular technology does not affect birds and cause mass die-offs, according to the National Audubon Society.
The claim appeared in a video published on YouTube by Anonymous Geordie on March 31, 2020, titled "5G switched on and behold dead ducks everywhere" (archived here).
Users on social media only saw this:
The video did not offer a specific location or address. Still, commenters suggested it may have been from the West Midlands in England - perhaps near Birmingham - based on the accent of the person who shot the video. Lead Stories cannot verify the location. As is often the case, the poster refused to reveal the exact address where the video was shot.
The headline on the post said ducks died "everywhere," a nonsensical claim.
According to a tech site, 5G coverage is currently available in Birmingham. Even so, a few dead ducks on the road do not indicate a link to the high-speed cellular technology. Anything, including a car, could have caused the ducks to die.
On January 14, 2020, the National Audubon Society wrote a detailed debunking of claims circulating on social media that 5G communication towers are causing mass deaths of birds.
On the internet, there is often a fine line between a healthy skepticism of new technologies and blatant misinformation. The recent claim that the radio waves from 5G cellular communication towers are causing mass bird die-offs is a perfect example of just how thin that line can be-and how quickly falsehoods can spread across Facebook, Twitter, YouTube, and even in the comments of Audubon magazine's stories.
The non-profit organization is an advocate for the conservation of bird species and habitats, so it would not be in keeping with the group's mission to defend a technology that might pose a threat to its efforts. It traced the origins of the online hoaxes and conspiracy theories about 5G killing birds:
The first part of this saga is fairly straightforward: No, 5G--the fifth generation of our mobile cellular network--does not kill birds. "Radio wave emissions above 10 MHz from radio transmission antennas (including cell telephone towers) are not known to harm birds," says Joe Kirschvink, a biophysicist at the California Institute of Technology who specializes in magnetics, in an email.
Lead Stories has previously debunked false online claims that birds had fallen dead from the sky due to 5G.
One commenter on the YouTube channel poked holes in the post:

Later, the poster called the novel coronavirus pandemic, which has killed more than 62,000 people as of April 4, 2020, a hoax:

Conspiracy theories aside, these kinds of claims about a link between bird deaths and 5G coverage have been called out as false time and again. Still, that is not likely to stop the spread of disinformation about 5G. You can read more of our articles on the topic here: