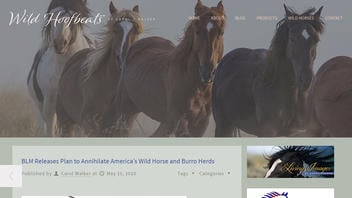 Did the Bureau of Land Management (BLM) release a plan to annihilate America's wild horse and burro herds? No, that's not true: The plan calls for management of the wild horse and burro population over the coming 15 years through "population growth suppression, removals, and private care placements." The term "annihilate" is defined as "utterly destroy," which is not the same as maintaining the population at a manageable level.
The claim originated in a post published on the website wildhoofbeats.com on May 15, 2020, titled "BLM Releases Plan to Annihilate America's Wild Horse and Burro Herds - Wild Hoofbeats" (archived here) which opened:
The BLM delivered its 2020 Report to Congress and this plan will cost the American taxpayer one billion dollars to remove 220,000 wild horses and burros from our public lands and place them in government holding facilities. Now the BLM is waiting 60 days before it receives the $21 million dollars that Congress allocated this year to begin this annihilation plan.
Users on social media only saw this title, description and thumbnail:
The Bureau of Land Management Just Released its Annihilation Plan to Destroy America's Wild Horses and Burros By Carol J. Walker The BLM delivered its 2020 [...]
This post touches on many of the complex issues surrounding wild horse herd management in the American west. It was written by Carol Walker, who is both an activist and photographer who serves as the director of field documentation for the non-profit Wild Horse Freedom Federation.
Much of the post is Walker's opinion, but the claim of a plan to "annihilate" the herds is a claim not supported by facts. The BLM's plan does not contain any language suggesting a motivation to eradicate the wild horses, either as individuals or, as they were declared by Congress in 1971, as wild free-roaming living symbols of the historic and pioneer spirit of the West. Walker's blogpost does offer a link to the 33 page BLM report titled, "U.S. Department of the Interior Bureau of Land Management Report to Congress: An Analysis of Achieving a Sustainable Wild Horse and Burro Program" (here).
This is an excerpt from the introduction of the BLM report explaining the projected goals of a plan over 20 years. Note: AML means Appropriate Management Level and HMA means Herd Management Areas:
The analysis discussed in this report assumes management of wild horse and burro herds and healthy landscapes in three phases:

1) Stabilize on-range population growth (over the initial 4-5 years);

2) Reach AML nationally (over the next decade after the first phase); and,

3) Maintain AML in perpetuity.

Based on survival rates, fertility statistics, lifespan (20-30 years old on the range), the current on-range population levels, and the program funding levels assumed in this report (which limits, for example, how many animals can be removed and held), the BLM estimates that wild horse and burro herds will continue to grow for the initial four to six years after this plan is enacted. For the subsequent twelve to fifteen years, as a result of population growth suppression, removals, and private care placements proposed in this report, wild horse and burro herds would decrease significantly as off-range holding increases. After about a decade of large-scale actions, the BLM's efforts would be devoted to reaching AML between years 15 - 18 through a more focused and tailored approach to each HMA.
The BLM says its goal will be to maintain wild horse herds on designated public lands at an appropriate management level in perpetuity, but Walker has extrapolated a different motivation behind the large budget presented in the plan (starting with $900 million over the next five years). She wrote:
Obviously this is incredibly large amount of money that will be dedicated to warehousing wild horses and burros who would be so much better off in the wild in their homes on our public lands. Obviously this cost is ridiculously unsustainable. And horribly, inevitably, this leads to the BLM's ultimate solution - get their prohibition against euthanizing healthy wild horses and burros lifted since the financial burden is too onerous so they can destroy all the wild horses and burros in government holding facilities. In other words, so they can slaughter 268,025 wild horses and burros.
The BLM does explain the long-term expense of the holding facilities in the same sentence with a reminder of the prohibition from euthanizing or selling these horses for slaughter:
The BLM would continue to evaluate new strategies (such as expanding animal training programs, providing financial incentives for private adoption, holding more events showcasing the availability of animals for adoption, and developing more compelling marketing strategies) to increase the placement of thousands of animals into private care via off-range corrals, satellite events, and partner placement events.

Because the BLM is statutorily prohibited from euthanizing healthy unadopted animals and/or selling animals without limitation to reach AML, the bureau is projected to expend hundreds of millions of dollars in future years to hold unplaced animals.

The BLM's report details pros and cons of a variety of methods that can reduce population growth of the wild horse herds and explains other programs to manage "excess" horses with non-lethal methods to further reduce herd size on public lands. There is nothing in this document that suggests a plan to slaughter the wild horses or to "utterly destroy" the population.