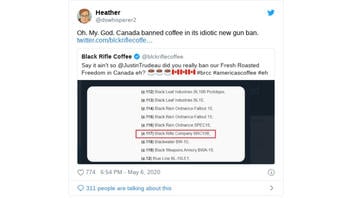 Did Canada's new ban on assault weapons include a coffee company that has "rifle" in its name? No, that's not true: The "Black Rifle Company BR15B" that is included on a long list of assault rifles ordered banned by Canadian Prime Minister Justin Trudeau is a real gun and is not the same as the Black Rifle Coffee Company. The coffee company created an online stir when it tweeted -- apparently as a joke -- a question about the list.
That tweet generated many derisive comments against the Canadian government after it was retweeted (archived here) on May 6, 2020, under the title "Oh. My. God. Canada banned coffee in its idiotic new gun ban." The original tweet, which included a screenshot of the list, opened:
Say it ain't so @JustinTrudeau did you really ban our Fresh Roasted Freedom in Canada eh? #brcc #americascoffee #eh
This is what the post looked like on Twitter at the time of writing:
Prime Minister Trudeau announced the new assault rifle ban on May 5, 2020, just days after 22 Canadians died in a mass shooting in Nova Scotia. The order named more than 1,500 rifles that were prohibited from sale, transfer or use. The 143th weapon on the alphabetical list -- entry z.117 -- was for Black Rifle Company BRC15B.
The coincidence of the name apparently led the social media manager at the U.S.-based coffee company to post the tweet as a joke. While there is no reason to believe that the company actually believed their product might be banned from export to Canada, a company representative did reply to our email with this:
We are definitely looking further into this since Black Rifle Company and Black Rifle Coffee Company do differ! We do appreciate the questions and concerns!
The Black Rifle Company BRC15B is a real gun, a spokesperson for the Royal Canadian Mounted Police said in reply to our emailed inquiry:
Please be advised that the Black Rifle Company BRC15B is a variant of the AR-15 design.

Hope you have a great day,
Camille Boily-Lavoie
RCMP-National Communication Services
We located a photo of the rifle in an online review: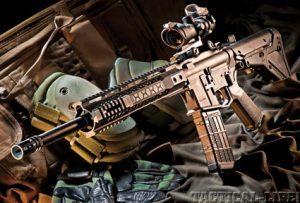 Tactical-Life.com described the weapon:
Black Rifle Company is a relatively new player in the increasingly crowded AR market, but if the rifle that they sent me for evaluation is indicative of the quality of their work, you'll be hearing much more of this small manufacturer.
While rack-grade AR-15s are becoming commonplace as patrol rifles, some agencies might want to consider a company that produces rifles beyond "mil-spec." This designation might be great for large batches of weaponry, but Black Rifle Company is a company devoted to semi-custom builds that exceed all expectations.
While the coffee company and the person who retweeted them likely knew the truth, some who shared it didn't get the joke. One Facebook user posted a screenshot of the tweet with this message:
Today in exhibit #15927037 of why the government sucks at everything, Canada accidentally banned a coffee company for having "Black Rifle" in its name
Today in exhibit #15927037 of why the government sucks at everything, Canada accidentally banned a coffee company for having "Black Rifle" in its name

Posted by Shane Atwood on Thursday, May 7, 2020
Part of what probably caused the confusion is that the Black Rifle Company LLC apparently dissolved in 2012 (or maybe moved to Arizona and then became inactive). Their website www.blackriflecompany.com has been offline for years but the Internet Archive still has a copy. You can verify the old website registration data here, it shows the site was registered to the same person as the company. But the lack of active website led to Google searches not turning up much for "Black Rifle Company", instead bringing people to the Black Rifle Coffee Company.