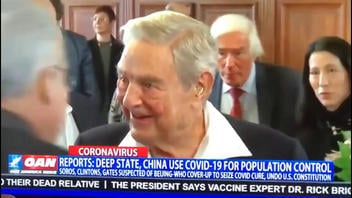 Is there a conspiracy by "the Deep State" and China to establish "sweeping population control" and "derail" President Trump using the novel coronavirus? No, that's not true: A report by a conservative U.S. news network citing "emerging reports" of a conspiracy by the "Deep State," China, Dr. Anthony Fauci, Bill and Hillary Clinton, and billionaires Bill Gates and George Soros is a mix of previously debunked conspiracy claims. It offers no evidence or sourcing beyond unattributed "reports" and the claims are contradicted by evidence.
The claims were aired by One America Network (OAN) on May 7, 2020. OAN's website requires an account to view its archived version, but it was also shared in a video (archived here) on May 9, 2020, titled "Truth is FINALLY Coming OUT! Deep State, China use COVID 19 for population control." The report opened with:
Emerging reports suggest further links between China and anti-Trump groups in the U.S. and One America's Kristian Rouz examines those claims.
Click below to watch the video on YouTube:
Rouz opens his report by suggesting that U.S. intelligence agencies are investigating the "globalist conspiracy" and the evidence is mounting:
The U.S. intelligence agencies are continuing a probe into the origins of COVID-19 amid mounting evidence of a globalist conspiracy to establish sweeping population control.
The idea that COVID-19 was created by a global conspiracy to control the world's population is counter to what the director of national intelligence -- who oversees all U.S. intelligence agencies -- said in an official statement titled Intelligence Community Statement on Origins of COVID-19 on April 30, 2020:
The entire Intelligence Community has been consistently providing critical support to U.S. policymakers and those responding to the COVID-19 virus, which originated in China. The Intelligence Community also concurs with the wide scientific consensus that the COVID-19 virus was not manmade or genetically modified.


As we do in all crises, the Community's experts respond by surging resources and producing critical intelligence on issues vital to U.S. national security. The IC will continue to rigorously examine emerging information and intelligence to determine whether the outbreak began through contact with infected animals or if it was the result of an accident at a laboratory in Wuhan.
Yes, intel agencies will continue to watch, but the evidence so far has led them to concur that the virus was not man-made.
Rouz continued:
The virus has triggered devastating lockdowns across the advanced economies and in this situation, experts say whoever controls the cure may control the future of humanity.

And while the media, Democrats, and the deep state continue to dismiss hydroxychloroquine as a likely cure, they are pushing for a failed Ebola drug remdesivir instead.
He then played a clip from Judy Mikovitz, the former virus researcher who joined the anti-vaccination movement after her chief study was retracted under controversy and she was fired by the laboratory she directed. Mikovitz suggested Dr. Anthony Fauci, the immunologist who heads the National Institute of Allergy and Infectious Diseases, favored remdesivir over hydroxychloroquine for personal financial reasons. Mikovitz has offered no evidence to support her claim.
Rouz then cites "recent reports" that link the drug remdesivir to the alleged conspirators:
Recent reports claim the remdesivir patent is controlled by mainland China, Bill Gates, and the WHO, while the Clintons may have a stake in it as well.

The entire cover-up is allegedly backed by globalist billionaire George Soros. Such allegations have been dismissed by the mainstream media and China as a conspiracy theory, saying California-based Gilead owns the patent for remdesivir. But, Gilead itself was reported as saying if it uses its own drug, it would get into legal trouble with China.

China reportedly holds part of the remdesivir patent through the UN agency Unitaid, whose main donor since 2006 is the Bill and Melinda Gates Foundation. Separately, the Clinton Foundation also worked with Unitaid on the 100-million-dollar project to study HIV/AIDS in the past. Unitaid also has offices near the Chinese bio-weapons lab in Wuhan, which top Republicans suspect was funded by none other than Dr. Anthony Fauci and the NIH.
There are no "recent reports" that China controls the remdesivir patent. In fact, it is owned by the American company Gilead Sciences, which had U.S. government support in developing the drug to the tune of about $70 million, according to StatNews.com. These facts destroy the main theme of this report. It takes Bill and Melinda Gates along with Bill and Hillary Clinton out of this conspiracy theory.
One of the few named sources in the OAN report is former New York Mayor Rudy Giuliani, who is quoted accusing Fauci of sending money to China's virus lab in Wuhan, which he said then created the virus and sent it to the United States:
That was fooling around with this virus. Despite that, Dr. Fauci gave $3.7 million to the Wuhan laboratory. We paid for it. We paid for the damn virus that's killing us.
Giuliani was spreading a debunk myth -- that $3.7 million in U.S. taxpayer dollars went to Wuhan for Chinese researchers who President Trump said -- in contradiction of his own intel agencies -- may have "accidently" released a virus they created. Lead Stories concluded that the grant in question was to a U.S. nonprofit group, not Chinese scientists. For the full debunk, see Fact Check: Obama Did NOT Give $3.7 Million Grant To Wuhan, China, Virology Lab To Study Coronavirus.
The OAN reporter next tries to make the effectiveness and safety of hydroxychloroquine a matter of politics, not medicine:
The coronavirus conspiracy gained further evidence when Democrat Party officials openly sided with the Chinese Communist Party to denounce hydroxychloroquine as a likely cure. Chloroquine was developed in Germany in the 1930s and most of it is made by German drugmaker Bayer, which recently gave the U.S. millions of pills for free to battle COVID-19.

Some say Democrats attack the drug only because President Trump spoke in support of it, but others point to a foreign trade aspect of it, saying Democrats want to get the COVID cure from China, not Germany or the EU.
In fact, it is President Trump's Food and Drug Administration that is warning about the anti-malarial drug with a published statement titled FDA cautions against use of hydroxychloroquine or chloroquine for COVID-19 outside of the hospital setting or a clinical trial due to risk of heart rhythm problems:
The FDA is aware of reports of serious heart rhythm problems in patients with COVID-19 treated with hydroxychloroquine or chloroquine, often in combination with azithromycin and other QT prolonging medicines. We are also aware of increased use of these medicines through outpatient prescriptions. Therefore, we would like to remind health care professionals and patients of the known risks associated with both hydroxychloroquine and chloroquine. We will continue to investigate risks associated with the use of hydroxychloroquine and chloroquine for COVID-19 and communicate publicly when we have more information.

Hydroxychloroquine and chloroquine have not been shown to be safe and effective for treating or preventing COVID-19.
For support of the claim that COVID-19 is not a virus, but a world-takeover plot, Rouz shares a video clip of a North Carolina woman holding a sign that reads "Investigate COVID and 5G!":
This is not about COVID or about a virus. This is about gaining control over the human race and limiting population. Limited population with a virus that was created in a lab and funded by the United States of America, by several people in the United States of America, along with other countries.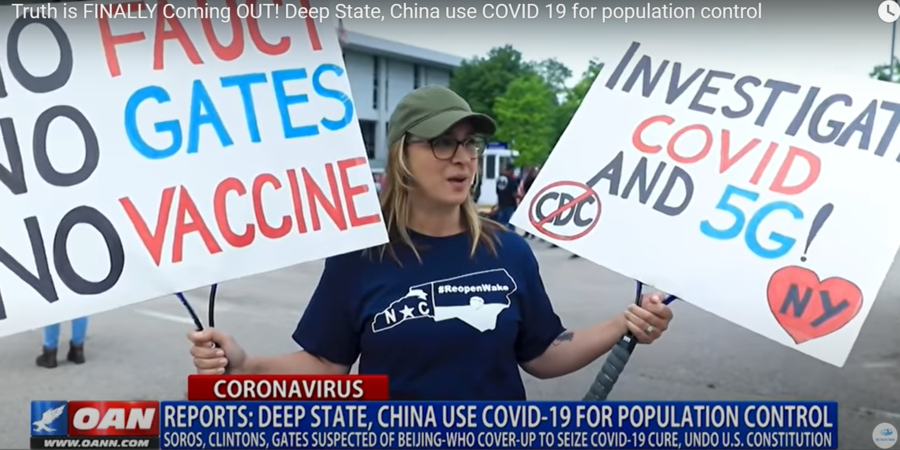 It should be noted there is no scientific evidence connecting COVID-19 to 5G wireless technology. Here are several of our fact checks on that:
Fact Check: 5G Is NOT Linked To Death Of Birds Or Government Cover-Up
Fact Check: Coronavirus Is NOT Fake; Is NOT A Cover-Up To Allow 5G Deployment
Fact Check: 5G Installation Is NOT A Cover-Up For Weapon Deployment
Fact Check: Switching On 5G Did NOT Cause Dead Ducks 'Everywhere'
Rouz concluded his five-minute report by offering the odd claim that there is a connection between the timing of the pandemic and Trump's talks with China for a new trade deal:
The U.S. and its Five Eyes intel partners point out COVID-19 broke out shortly after President Trump forced China into a phase-one trade deal to reduce Chinese control of the U.S. economy. Now that China may be striking back, there is concern that the deep state, Democrat cabal, and the Big Pharma are working to derail President Trump's reelection and force the American people into total submission and control.
You just need a calendar and not six large intel agencies to conclude that the pandemic began during trade talks. As for the claim that there is a deep state and Democrat cabal teaming with the drug industry to "derail" Trump with COVID-19, there is no evidence offered.