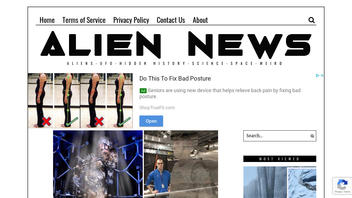 Did U.S. Army scientists successfully teleport soldiers from Massachusetts to Germany? No, that's not true: an old April Fools joke from 2016 has kept on fooling people over the years, recently including a UFO news site and at least one YouTube channel.
The story went viral again via an article (archived here) published by Alien News on March 14, 2020 under the title "Fact Check: Army Scientists Did NOT Successfully Teleport Soldiers From Massachusetts to Germany". It opened:
According to the Natick Soldier Systems Center (NSSC), scientists have managed to successfully teleport a fully equipped squad from Massachusetts to a training area in Germany.

Teleportation is the process of moving objects from one place to another thanks to the transformation of matter into energy and its subsequent reconstruction based on Einstein's famous formula.

We must take into account that there is no direct relation between teleportation as defined in science-fiction, and quantum teleportation, which is a technical-scientific term used in quantum physics to denote information transport.
The article also included a YouTube video that was published on March 1, 2017 by a channel named "UFOmania - The truth is out there":
The automated voiceover in the video is basically reciting this article published on the official Army.mil website under the title "BREAKING: Army scientists successfully 'teleport' Soldiers". That story opened:
NATICK, Mass. (April 1, 2016) -- Army scientists have successfully "teleported" a fully equipped squad from a Massachusetts research and development facility to a training area in Germany, the Natick Soldier Systems Center (NSSC) announced today.

The nine human research volunteers, fresh out of Advanced Individual Training, were participating in experiments in the Doriot Climatic Chambers at NSSC when they disappeared and moments later materialized at the Grafenwoehr Training Area, completely unharmed. The chambers are capable of replicating any climate or weather in the world but have never before been used in this manner.
Eagle-eyed readers will have immediately spotted the date (April 1, 2016). At the time of writing the article sports a byline with a second date which reads "By Bob Reinert, USAG Natick Public Affairs October 12, 2016", but an archived version of the story shows it originally read "April 1, 2016" too.
That, and the story ended on this note, clearly indicating it was all a joke:
"We're only concerned with place, not time," said Storm, a twinkle in his eye. "This development could change the entire course of human history."

The Task Force expects to report its initial findings by April Fools' Day, 2017.
At the time ABC News included the story in their list of 2016 April Fools jokes: https://abcnews.go.com/Business/2016-april-fools-day-jokes-fall/story?id=38079659
Don't fall for old jokes being repackaged as news, always Google before you share/like/comment.