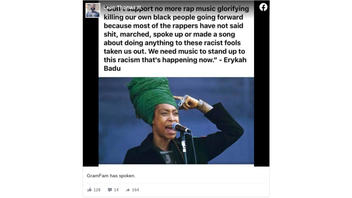 Did Erykah Badu call on people to stop buying some types of rap music because most rappers aren't doing anything to stand up against racism? No, that's not true: The neo-soul singer herself has said the words in a viral social meme aren't hers.
The meme appeared in a post (archived here), published on Facebook on June 26, 2020, under the title "GramFam has spoken." It said:
"Don't support no more rap music glorifying killing our own black people going forward because most of the rappers have not said shit, marched, spoke up or made a song about doing anything to these racist fools taken us out. We need music to stand up to this racism that's happening now.
This is what the post looked like on Facebook at the time of writing:
(Source: Facebook screenshot taken on Tue Jun 30 16:47:17 2020 UTC)
Badu let fans know that those are not her thoughts or beliefs in an Instagram post shared on June 29, 2020. Erykah Badu said,"I didn't say those words attached to my picture. Nice picture tho."
She said she understands the frustration being conveyed in the statement falsely attributed to her, but she also encourages people to direct their energy in more useful ways.
Here's her post:
"THE SHAMING TACTIC " Tho I understand the frustration in the sentiment of the authors statement it is a misdirection of energy. If The "rappers" to whom this statement references are victims of the same society that fed their communities left-overs of capitalism and Murder, then the author is requiring "UN WELL" people to do "WELL" things. People evolve at their own rates ...EVEN when they are SHAMED in to behaving a certain way to gain respect or acceptance from the HIVE . There are artist who have a true passion for THE WORK. There are others who pretend to be activists for credibility. There are artists -activists who you will NEVER see on social media at all OR those who ARE on social platforms that do not have the NEED to be seen as activists, yet do THE WORK. The talk of KILLING will stop when KILLING stops just as the talk of LIBERATION will stop when there is no longer a need. I guess what I am saying is AIM YOUR GUNS IN THE RIGHT DIRECTION. These are my observations. But I didn't say those words attached to my picture. Nice picture tho . 😉 This statement does not serve as a PARDON for any ones behavior Nor as a glorification of any ones actions. -eb Thanks.