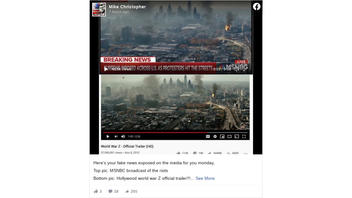 Did MSNBC use a clip from the World War Z movie trailer in a news broadcast about George Floyd protests in Los Angeles ? No, that's not true: The person who tweeted a video of a fake MSNBC report that incorporated the movie clip later admitted it was a joke, although many social media users didn't get the message and shared it as real.
One example is a post (archived here) published on June 1, 2020. It featured screenshots of the purported news report on top and from the movie trailer on the bottom half. It read:
Here's your fake news exposed on the media for you monday,
Top pic: MSNBC broadcast of the riots
Bottom pic: Hollywood world war Z official trailer!!!
It's not about George floyd! Its about keeping us divided!
This is what the post looked like on Facebook at the time of writing:
(Source: Facebook screenshot taken on Mon Jun 1 23:43:49 2020 UTC)
The original poster -- using a Twitter account named Bad Scooter -- indicated he was shocked at how fast so many people took his post as being real. He tweeted:
Well that escalated quickly. YES, that MSNBC clip was from World War Z, I even marked the video above the MSNBC logo "NOT REAL."

I dramatically underestimated Twitter, many pointed it out, some claimed it was "real"-that was stupid of me.

I apologize #Philly #WorldWarZ pic.twitter.com/8O52I5iEmn

-- Bad Scooter (@OfficialSlop) June 1, 2020
In some cases, Bad Scooter tweeted messages to the gullible making it clear to them it was not real.
IT'S NOT REAL! ACTUAL AUDIO FROM THIS VIDEO CLIP WAS USED ALONG WITH WORLD WAR Z CLIP. pic.twitter.com/acBqkh0588

-- Bad Scooter (@OfficialSlop) June 1, 2020
He included some big clues it was a joke, including the words "BAD SCOOTER / NOT REAL" above the MSNBC logo in the right bottom corner.