STORY UPDATED: check for updates below.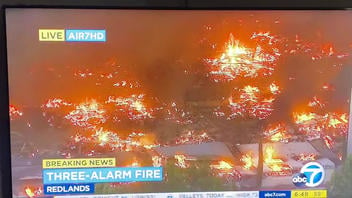 Did "looters" burn to the ground an Amazon fulfillment center in Southern California amid protests over the death of George Floyd? No, that's true: Fire officials told Lead Stories that no evidence exists that looters or rioters had anything to do with the 3-alarm blaze early on June 5. Redlands, California, city official told local reporters the fire was "definitely not protest-related."
The claim, which has since been qualified to say "maybe" in the title, was made in a video (archived here) posted to YouTube on June 5, 2020, originally titled "Looters burn Amazon to the ground Floyd Protest Redlands" which opened:
Redlands Huge Amazon building burned to the ground
Click below to watch the video on YouTube:
A screenshot of the original title of the video, which is amateur footage of a local TV report on the fire, shows it has since been changed: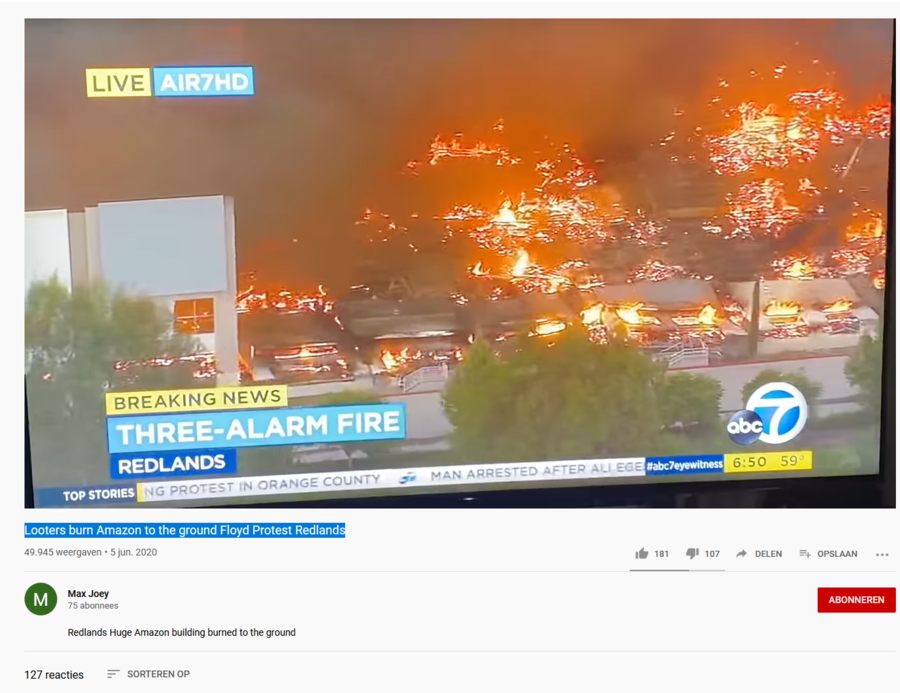 The is just a live report from ABC7 Los Angeles recorded on a phone or some other device. There is no commentary in the report, voiced over the report or in the posting that would explain the title's claim.
"This is the early stage of the investigation," said city spokesman Carl Baker. "Investigators are just now [June 6] entering the interior, but there is no indication that this was started by looters."
Also, City Manager Charles M. Duggan Jr. said in a statement to Lead Stories:
The cause of the fire is currently under investigation and no determination of cause has been released. There were no protests anywhere in town at that time nor in that area of town. There is nothing to suggest that this fire was protest related at this time. The report is that the building is not owned by Amazon but was a supplier.
Duggan told local reporters Saturday that:
It's definitely not protest-related, something happened on the inside of the building that ignited the fire.
Messages were also left for police officials and Amazon. But a commentor on the YouTube post even pointed to Duggan's comment. It's unclear if that comment prompted the poster, Max Joey, to change the title to "Maybe Looters burn Amazon to the ground Floyd Protest Redlands."

The warehouse, an Amazon third-party facility run by Kuehne and Nagel and stretching about 1.1 million square feet, housed larger items for delivery -- orders that the company has told media will be handled by other facilities. Reports said the fire started about 5:25 a.m. on June 5 and engulfed the entire warehouse. It caused no reported injuries as people were able to safely evacuate. (A message was left for Kuehne and Nagel, but we have not heard back from a company official yet.)
Protests over Floyd's May 25 death have spread throughout the country and globally since video of Minneapolis Police Department officer Derek Chauvin's knee to Floyd's neck before his death went viral. (Chauvin has since been charged with second-degree murder, and three other officers have been charged with abetting murder.)
Some of the anti-police brutality protests have turned violent -- both by and against police -- and looting has been widespread.
Still, there is no indication, particularly at this early stage of the fire investigation, that looters started the massive blaze. There were no police reports or media reports suggesting this was anything but a giant fire that got out of control from inside the building.
Here is a police Facebook post about protests and the fire:
2020-06-07T18:16:02Z

2020-06-07T18:16:02Z

Adding statement from city official saying there were no protests at the time of the fire.