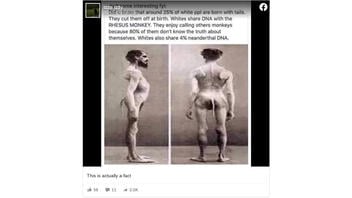 Are 25% of white people born with tails? No, that's not true: A 2019 paper published in the "Asian Journal of Neurosurgery" reported that only 40 cases of a "true human tail" have been reported in the scientific literature and those cases involve several races. There occurance is not higher for white people, according to a paper published in the "People's Journal of Scientific Research."
The claim appeared as a meme in a post (archived here) shared on Facebook on June 24, 2020. The meme features side and rear black-and-white photos of an unidentified naked man who appears to have a tail. It reads:
Did you know that 25% of white ppl are born with tails. They cut them off at birth.
This is what the post looked like on Facebook at the time of writing:
(Source: Facebook screenshot taken on Thu Jul 23 15:37:08 2020 UTC)
The true source of this photo is unknown, but in a number of instances it is grouped into a series of photos of circus sideshow performers.
The Facebook post continues:
Whites share DNA with the RHESUS MONKEY.
There is some truth to this claim. All humans share DNA with the Rhesus macacques, not just white people. A 2007 article from "Live Science" reported that, "The new analysis of the rhesus monkey genome, conducted by an international consortium of more than 170 scientists, also reveals that humans and the macaques share about 93 percent of their DNA."
The caption closes with this statistic:
Whites also share 4% neanderthal DNA.
The percentage of Neanderthal DNA in modern humans is close to zero in people from African populations, and approximatley one to two percent in people of European or Asian background, according to the NIH's Genetic Home Reference.
It is false that 25% of white people are born with "true tails" like the one pictured.