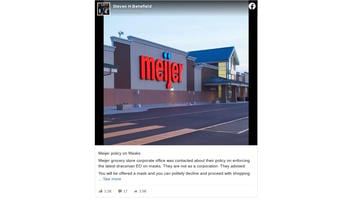 Are shoppers at Meijer groceries and express stations free to "politely decline" a mask against the novel coronavirus and go on their way, shopping in the stores without pressure? No, that is not true. While Meijer did just change their policy to require masks for anyone using their 253 locations, the the Midwestern company told Lead Stories it never issued a previous policy that was more lenient, as suggested in a popular Facebook post.
The claim can be found in a post (archived here) on Facebook from July 13, 2020, which read:
Meijer policy on Masks:

Meijer grocery store corporate office was contacted about their policy on enforcing the latest draconian EO on masks. They are not as a corporation. They advised:

You will be offered a mask and you can politely decline and proceed with shopping.

If a store employeee pushes it, politely decline again and advise that you contacted their corporate office. Then, decline again.

If there are any issues see the store director. He has advised that there should be no further discussion as all employees have been advised how to manage those that are not wearing a mask due to private medical issues.

He said the issues they are seeing is with other customers being militant toward those not wearing a mask. He said if harassed by a fellow shopper, please do not engage and try to de-escalate the situation by walking away. If they proceed with any harassing, see the service desk immediately.

Meijer will NOT allow the local police and/or Sheriff's departments to issue the infraction unless you become the problem."
This is what the post looked like on Facebook at the time of writing:
(Source: Facebook screenshot taken on Wed Jul 22 13:17:31 2020 UTC)
The Michigan-based company, following an executive order from Democratic Gov. Gretchen Whitmer that required masks to be worn by all inside public places -- with limited exceptions -- issued a statement about mask-wearing on July 16, three days after the post. And it took effect July 20. The company said in an email to Lead Stories that the Facebook wording was wholesale fabricated -- and that it has appeared before. A spokesman wrote:
We've seen that post pop up a few times.

It's not posted by Meijer or any Meijer representative and it's also not our language. We're unaware of who wrote/posted it."
This is the statement Meijer issued:
GRAND RAPIDS, Mich., July 16, 2020 /PRNewswire/ -- To help ensure the continued health and safety of its team members and customers, Meijer announced today that it's requiring all customers wear a face mask or face covering when shopping at any Meijer store or Meijer Express station throughout the Midwest. The requirement goes into effect July 20, 2020.

This new requirement is in addition to the retailer's locations where executive orders are already in place requiring people to wear face coverings at retail locations.

Customers who have medical conditions that prevent them from wearing face coverings are exempt.

For customers who prefer to not come inside the store, the company encourages the use of its Meijer Home Delivery or Curbside pick up as options for their shopping needs, as well as the pay at the pump option when purchasing fuel at Meijer Express locations.

Meijer currently operates 253 supercenters and grocery stores throughout Michigan, Ohio, Wisconsin, Indiana, Illinois, and Kentucky.

For further information: Meijer Media Hotline - (616) 249-6334, [email protected]
That was six days after Whitmer's July 10 executive order, which read in part:
Today, Governor Gretchen Whitmer signed executive order 2020-147, which reiterates that individuals are required to wear a face covering whenever they are in an indoor public space. It also requires the use of face coverings in crowded outdoor spaces. Most significantly, the order requires any business that is open to the public to refuse entry or service to people who refuse to wear a face covering, with limited exceptions. Governors in the states of Kansas, Maine, Nevada, Pennsylvania, and Washington have imposed similar requirements on businesses.

Governor Whitmer signed this executive order in response to rising COVID-19 cases in Michigan and across the country. Executive Order 2020-147 reinforces and expands upon the governor's previous executive orders on safely restarting Michigan's economy and ensuring workplace safety."
So, while the order did come after the post, the Facebook wording was always false. The spokesman confirmed as much, noting that the wording was not from corporate or any other company official. Whitmer has been the subject of fierce opposition to stay-at-home measures, mask-wearing orders and other safety precautions.