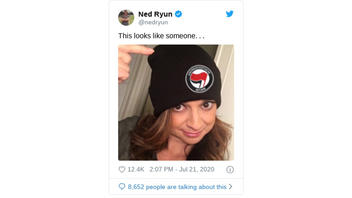 Did Cathy Areu, a former frequent guest on Fox News who is now a co-plaintiff in a lawsuit against the network, appear in a photograph while wearing an Antifa stocking cap? No, that's not true: An image of her smiling while pointing to a "Antifaschistische Aktion" logo on a black beanie was photoshopped. The original image, shared in a 2017 tweet from Areu, clearly shows that her cap had nothing to do with the historical militant anti-fascist organization founded by communists to fight Nazi Germany.
The doctored image of Areu's cap appeared in social media posts, including this tweet (archived here) which published on July 21, 2020. It opened:
"This looks like someone. . ."
This is what the post looked like on Twitter at the time of writing:
Some followers immediately bought what this tweet was selling, suggesting Areu's supposed Antifa support discredited her claims of sexual harrassment against a handful of Fox News personalities, including Tucker Carlson, Sean Hannity, Howard Kurtz and since-fired Ed Henry.
"Is that the girl that Hannity and Tucker didn't bang?," asked one person. "Wow. That's pretty blatant political motivation for targeting Tucker. I'm sure @TuckerCarlson would like a copy of that picture for his motion to dismiss & frivolous lawsuit sanctions against the plaintiff's attorney," wrote another. "And people don't think she's being paid to accuse Tucker of Assault? She's a puppet to the cause. Clear as day to me," said a third.
Others, however, called out the photoshop job, providing links to the original image.
On February 11, 2017, Areu, a journalist, tweeted out an image of her wearing a cap with a red logo. She wrote: "Got my #Bujo brand hat from the great E.L. Moses (@AverageMo7). Keeps me warm when I run outside this winter."
Here's how that post appeared on social media:
Got my #Bujo brand hat from the great E.L. Moses (@AverageMo7). Keeps me warm when I run outside this winter. pic.twitter.com/aQzFCCNx2w

-- Cathy Areu (@AreuCathy) February 11, 2017
Lead Stories set out to learn more about the beanie Areu showed off, just to confirm what she was -- or wasn't -- promoting. We discovered a site selling the bujo brand that included this description: "The bujo brand is here to inspire the artist within each individual and to motivate the masses. Love and never give up!"
We then reached out for more informatoin, and got this email in response from E.L. Moses, otherwise known as bujo, himself:
Hi. Thanks for seeking clarity. I'm a HipHop artist that decided to brand my name and logo.

Dibujo in Spanish means I draw or sketch. Loving to dabble in pencil art I thought it was a cool original name. I shortened it (because thats what rappers often do). It became "bujo". Phonetically sounding like boo-ho. I made it into an arm tattoo and found out it looks good vertically leading with the "O".

Back to hip hop. When you dislike a song you say "boo" when you like a song you say "ho" and I am the character of natural personality. My brand encourages love, self awareness and personal growth. It has no ties with any political group.
Areu and her co-plaintiff Jennfier Eckhart, a former associate producer at Fox Business who's accused Ed Henry of rape, will continue to be scrutinized by naysayers as
their lawsuit
moves forward. But the stocking cap worn by Areu more than three years ago isn't where they'll find the answers -- or nefarious motivations -- they may seek.