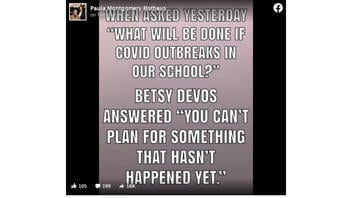 Did Betsy DeVos, the U.S. Secretary of Education, say, "You can't plan for something that hasn't happened yet," when asked what will be done if there's a COVID-19 outbreak in schools? No, that's not true. Reviewing both the video of her CNN interview with anchor Dana Bash and an online transcript, it's clear she said something different.
The claim appeared in a meme (archived here) published on Facebook on July 14, 2020, that said:
WHEN ASKED YESTERDAY "WHAT WILL BE DONE IF COVID OUTBREAKS IN OUR SCHOOL?" BETSY DEVOS ANSWERED "YOU CAN'T PLAN FOR SOMETHING THAT HASN'T HAPPENED YET"
This is what the post looked like on Facebook at the time of writing:
(Source: Facebook screenshot taken on Fri Jul 17 23:10:27 2020 UTC)
Both Dana Bash's question and DeVos' answer were mangled in the meme.
What Bash actually asked was:
What if the school district feels they can't safely go into the schools because there's a flare up in that district. Remote learning, are you okay with it in that situation?
DeVos answered:
If there is a short-term flareup for a few days, that's a different situation than planning for an entire school year in anticipation of something that hasn't happened. That's a very different thing.
Lead stories checked the CNN video of the interview, found at this link, as well as an unofficial transcript provided by Rev.com, a digital transcription service. Both show the same question and answer.
You can watch the relevant excerpt in the embedded video below. The question and answer comes at the very end of the clip.
The question came at the end of a contentious 10-minute interview in which DeVos took issue with Dana Bash's interpretation of the American Academy of Pediatrics' guidelines for school opening. The pediatric care experts emphasized that children are best off in school if adequate safeguards are funded.
Lead Stories also debunked another false claim about what DeVos said in the same interview. Read Fact Check: Education Secretary Betsy DeVos DID Not Say 'Only' .02% Of Kids Are Likely To Die When They Go Back To School; If So, It Would NOT Add Up To 14,740 Dead Children