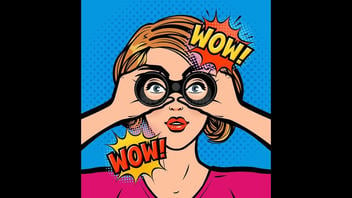 Was JFK Jr. spotted at the Fourth of July celebration at Mount Rushmore on July 3, 2020? No, that's not true: John F. Kennedy Jr. died in plane crash in 1999, which makes it a certainty that the son of the 35th president of the United States did not attend the Mount Rushmore speech of the 45th, President Donald Trump.
The claim appeared in a video posted by the "Alice Down the Rabbit Hole" YouTube channel on July 5, 2020, titled "Was that #JFKJR?!!!!" (archived here). The description read:
Was JFK Jr spotted at the July 4th Celebration on July 3rd at Mount Rushmore? Did we hear his voice?
Click below to watch the video on YouTube:
The short video opens with a cartoon "Alice" -- from the Alice in Wonderland story -- weeping because John F. Kennedy Jr. apparently failed to re-appear as she had hoped at Mount Rushmore event. (Watching for JFK Jr's return is a basic part of many QAnon believers' lives, which we will discuss below.) The crying stops with the words:
HOLD ON! SOMEONE SAW JOHN JR.?
The we see this tweet that claims JFK Jr. "revealed himself" at Mount Rushmore:
#JFK revealed himself on July 3 at the July 4 celebration! Is anyone else allowed to be on top of George? #JFKJRLIVES https://t.co/d8CfvnA78I

-- Utsava-ACCURATE #Trump #prophecies-#WWG1WGA (@Utsava4) July 5, 2020
The video offers a blurry image of a human figure on the top of George Washington's head as evidence JFK Jr. was present at Mount Rushmore on July 3, 2020:
The video correctly reports that JFK Jr. visited Mount Rushmore in 1999 and requested permission to rappel down the face of the mountain. The National Park Service denied Kennedy's request.