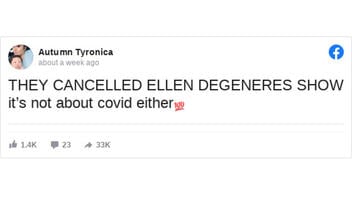 Did "The Ellen DeGeneres Show" get canceled? No, that's not true: The award-winning daytime talk show was renewed through the 2021-2022 season, DeGeneres herself announced in 2019 that she had signed on for three more years and a spokesperson for the production company, Telepictures, said in a written statement that the show "has not been canceled and will return with all new episodes this September."
The claim that the show got the axe appeared in social media posts like this one (archived here), which published on Facebook on June 29, 2020, under the title "THEY CANCELLED ELLEN DEGENERES SHOW." It opened:
THEY CANCELLED ELLEN DEGENERES SHOW




it's not about covid either
This is what the post looked like on Facebook at the time of writing:
The truth is that the hit show is going nowhere anytime soon. A press release from WarnerMedia, issued on May 22, 2019, celebrated an extended run through 2022. Here's how the press release started:
Burbank, CA - Ellen DeGeneres will continue her number-one and award-winning talk show for the next three seasons she announced today to thunderous applause from the studio audience on Stage 1 at Warner Bros. Studios on the episode of "The Ellen DeGeneres Show" airing on Wednesday, May 22nd.

"I'm excited to announce that I'll be doing my show for three more years," said talk show host Ellen DeGeneres. "Mostly because I love doing it so much every day, but also because that takes me to the end of my car lease."
Here's the video in which DeGeneres shared the renewal news. The video, posted on ellentube, ran with this title, "Ellen's Huge Renewal Announcement," and this introduction:
Ellen has had a great run of 16 seasons, and today she announced that you're stuck with her for three more! Since there were a lot of rumors about whether Ellen was going to continue doing the show, the announcement accidentally leaked in a very unexpected place - "Game of Thrones."
A spokesperson from Telepictures, the production company behind the talk show, also slapped down this fake cancellation news with this statement, sent to Lead Stories:
The Ellen DeGeneres Show has not been canceled and will return for all new episodes this September.
Rumors about the fate of the show have appeared in media stories like this one in The Sun, titled "OVER FOR GOOD? Is the Ellen DeGeneres show being canceled?" Other reports in the New York Post and Cosmopolitan have also addressed the false claims.