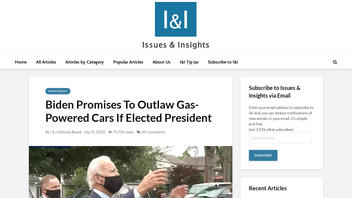 Has Democrat Joe Biden promised to outlaw gas cars if elected U.S. president? No, this is not true. Biden's "Clean Energy" policy released in July 2020 does not include a promise to outlaw gas-powered cars. It does propose actions and incentives to promote a rapid adoption of electric vehicles as a replacement to gas-guzzling internal-combustion engines.
The claim is stated as fact in an article (archived here) published by Issues & Insights on July 16, 2020, under the title "Biden Promises To Outlaw Gas-Powered Cars If Elected President." It opened:
Joe Biden's $2 trillion climate change plan, released this week, was described by one liberal outlet as "the Green New Deal, minus the crazy." We beg to differ. Just look at Biden's plan to eliminate the internal combustion engine.

Biden says that on his first day in office, he will develop "rigorous new fuel economy standards aimed at ensuring 100% of new sales for light- and medium-duty vehicles will be zero emissions."
This is how the story appeared in a Facebook post at the time of writing:
While most of the article focuses on the debate over fossil-fuel cars versus electric vehicles, its headline -- which is presented as a statement of fact -- is false.
This is the relevant section, found on page 9 of the 15-page policy paper, titled "The Biden Plan to Build a Modern, Sustainable Infrastructure and an Equitable, Clean Energy Future":

Establish ambitious fuel economy standards that save consumers money and cut air pollution. Biden will negotiate fuel economy standards with workers and their unions, environmentalists, industry, and states that achieve new ambition by integrating the most recent advances in technology. This will accelerate the adoption of zero-emissions light- and medium duty vehicles, provide long-term certainty for workers and the industry and save consumers money through avoided fuel costs. Paired with historic public investments and direct consumer rebates for American-made, American-sourced clean vehicles, these ambitious standards will position America to achieve a net-zero emissions future, and position American auto workers, manufacturers, and consumers to benefit from a clean energy revolution in transport.
Biden's proposals could mean that in coming decades gas-powered vehicles could become a rarity, which is something many Biden supporters would welcome. But making them illegal is not in a current Biden plan.