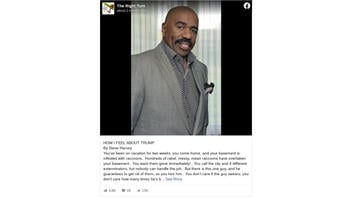 Did comedian Steve Harvey write a post titled "How I Feel About Trump" that compared ridding a basement of rabid raccoons to the challenge of fixing the federal government? No, that's not true: The post is a letter written in 2016 and addressed to the Republican National Committee by someone who claims to be an 80-year-old who is responding to a fundraiser solicitation. The bottom half of the letter was reposted in 2019 by a Tennessee man named Steve Harvey, not the Harvey who hosts TV's "Family Feud."
The claim appeared in a post (archived here) shared on Facebook meme page, The Last Right Turn, on June 15, 2020. It opened:
HOW I FEEL ABOUT TRUMP:




By Steve Harvey




You've been on vacation for two weeks, you come home, and your basement is infested with raccoons.. Hundreds of rabid, messy, mean raccoons have overtaken your basement.. You want them gone immediately!.. You call the city and 4 different exterminators, but nobody can handle the job.. But there is this one guy, and he guarantees to get rid of them, so you h

ire him.. You don't care if the guy swears, you don't care how many times he's been married, you don't care if he has a plumber's crack, you simply want those raccoons gone!..
This is what the post looked like on Facebook at the time of writing:
(Source: Facebook screenshot taken on Wed Aug 12 15:39:39 2020 UTC)
The post compares the dire need to hire an exterminator to get rid of rabid raccoons to the need for Trump to be president when there are undocumented immigrants in the U.S.
The post continues:
Here's why we want Trump: Yes, he's a bit of a jerk; Yes, he's an egomaniac; but we don't care!.. The country is a mess because politicians suck, the Republicans and Democrats can be two-faced and gutless, and illegals are everywhere.. We want it all fixed!..
An earlier version of the post originated from 100percentfedup.com in 2016, according to a fact check of the same claim by USA Today.
Then in 2019, the Tennessee Steve Harvey posted it:
Lead Stories has not received a response from a representative for comedian Steve Harvey.