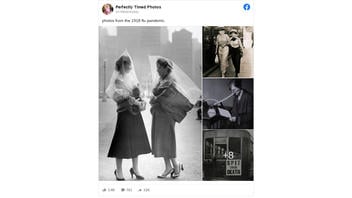 Are a series of images circulating on social media accurately depicting what life looked and felt like during the 1918 flu pandemic? No, that's not true: While some of the photographs are, in fact, from the time when what was known as the Spanish flu ravaged the globe, infecting about 500 million people and killing at least 50 million, to say they all are is misleading. A good number were taken before or after that pandemic -- including one that showed women in 1913 wearing veils over their mouths as nothing more than a fashion statement and another featuring two women wearing war surplus gas capes to protect their eyes from smog in 1953. Several advertisements or marketing materials being erroneously tied to 1918 are even more off base, with one dating back to 1910 and another, a call-to-action poster, being created in March 2020.
The claim linking a series of images to the 1918 pandemic have appeared in posts like this one on Facebook (archived here), which was published on August 5, 2020. The post, which included 11 images, opened this way:
photos from the 1918 flu pandemic.
This is what the post looked like on Facebook at the time of writing:
But while five of the shared photos in this post are, in fact, representative of the 1918 pandemic, the other six are not -- which misleads social media followers.
One image shows two women chatting on a street while wearing what appears to be plastic over their heads. This is how it appears in the post billed as a photo from the 1918 flu pandemic:
The reality is revealed here, where the caption for the 1953 image reads:
War surplus gas capes are used in an attempt to dodge the eye-stinging effects of a low-hanging smog enveloped Philadelphia in 1953.
A second image shows two fashion-forward women walking with linked arms down a sidewalk while wearing what might be mistaken as face masks. This is how that image shows up in the pool of supposed 1918 images:
The truth about this image is that the two women are wearing a 1913 fashion statement, "A new veil fashion," as indicated here, in German. The English translation of the photo's description reads as follows:
The Balkan War gave rise to a new, peculiar fashion: women have recently been wearing the veil that has been used in Turkey for centuries.
A third photo falsely credited to 1918 shows two women wearing gas masks while walking with a baby buggy. Here is what that image looks like in the misleading post:
According to Getty Images, this photograph was from July 9, 1941, more than 23 years after the Spanish flu outbreak began. The caption with the photograph reads:
9th June 1941: A gas masked young mother attends to her child's pram gas mask during a surprise gas test in Kingston. (Photo by Keystone/Getty Images)
A fourth photograph erroneously linked to 1918 shows two women wearing masks while speaking through a car window. This is how that image appears on social media:
The reality is that these women are wearing flu masks in 1929, not 1918, according to Getty Images. The image description reads:
Two women wearing flu masks during a flu epidemic in 1929. (Photo by Keystone/Hulton Archive/Getty Images)
Mixed in with the photographs in this post allegedly about life in 1918 are two pieces of marketing materials -- neither of which are from 1918.
The first and oldest image included in the mix of supposed 1918 images is an advertisement from New York Telephone Co., which reads:
When In Quarantine
People who are in quarantine are not isolated if they have a Bell Telephone.
The Bell Service brings cheer and encouragement to the sick and is of value in countless other ways.
Friends, whether close at hand or far away, can be easily reached, because Bell Service is universal service.
Here is how that image appears on social media:
But this advertisement actually appeared in a St. Louis, Missouri, newspaper on November 17, 1910 -- years before the Spanish flu took hold. Specifically, the telephone ad ran on page 16 of the St. Louis Post-Dispatch.
And then the final image included in the batch of "1918" photos is a simple, though colorized, poster that reads:
STAY AT HOME
IT HAS NEVER BEEN EASIER TO SAVE LIVES
Here's how that image appears in this social media post:
The reality is that this poster became available only months ago. It was created by a French graphic designer Mathieu Persan. Persan created the website, www.restezalamaison.org, to make his shareable posters -- reading "stay at home" in a multitude of languages -- available for free. He launched this site on March 21, 2020, sharing news about it in a Facebook post which read:
J'ai le plaisir de vous annoncer que le site :

est en ligne. Retrouvez tous les posters, avec les liens de téléchargement des versions HD. Partagez autant que vous voulez mais surtout, RESTEZ A LA MAISON !

-------------

You'll find all the free Stay at Home posters and HD download links.

Share, and... STAY AT HOME !
This is how Persan's announcement appeared on social media:
While the aforementioned images cannot be credited to the 1918 flu pandemic, which lasted a couple years, five of the photos posted in this batch do provide a factual window into that period of time.
The image of a woman wearing a mask contraption while reading a book was taken on February 27, 1919,
according to Getty Images
. The description reads:
A woman wearing a flu mask during the flu epidemic which followed the First World War, 27th February 1919. (Photo by Topical Press Agency/Hulton Archive/Getty Images)
Here's how that image appears on social media:
A sign on a streetcar warning about the dangers of spitting did, in fact, appear in Philadelphia in October 2018. A caption for the image, provided by the Historical Medical Library of The College of Physicians of Philadelphia, appeared in the New York Times and reads: "An anti-spitting sign posted on streetcar in Philadelphia, October 1918." This is what the image looks like on social media:
One image depicts rows of patients in a converted warehouse established to quarantine people, according to Getty Images. The image is described this way:
Image shows warehouses that were converted to keep the infected people quarantined. The patients are suffering from the 1918 Influenza pandemic, a total of 50-100 million people were killed. Dated 1918 (Photo by: Universal History Archive/Universal Images Group via Getty Images)
Here's how this image appears on social media:
Another image, showing a masked boy outside a closed-down theater, was among images colorized and rereleased by Royston Leonard to help mark 100 years since the Spanish flu pandemic.
This is how that image looks on social media:
And the last image to round out the five that, in fact, do reflect the period of the 1918 flu pandemic is one featuring a photograph of a Red Cross nurse wearing a mask, featured beside a list of tips "To Prevent Influenza!" This full-page image published on October 18, 1918, according to the U.S. National Library of Medicine in a blog post. Here's how the image is described:
On October 18, 1918, the

Illustrated Current News

in New Haven, Connecticut, published a list of steps "To Prevent Influenza!" with a full page photograph of a Red Cross nurse wearing an influenza mask. These recommendations echoed numerous statements from federal, state, and local public health officials urging the population to take specific measures to prevent the further spread of so-called Spanish Influenza. In late September 1918, as this particularly deadly form of influenza spread throughout military camps and then into civilian populations, the United States Public Health Service

issued a bulletin

urging citizens to take precautionary steps to contain the disease.
Here's how the image appears in recent social media posts: