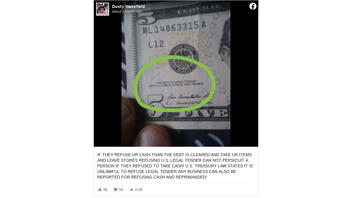 Does U.S. Treasury law make it unlawful for American businesses to refuse to take "legal tender" cash as payment for goods and services? No, that's not true: The Federal Reserve, which oversees the U.S. money supply, made it clear on its website that private businesses are free to follow their own policy about if to accept cash or demand payment by credit card. Many retail businesses have established policies of credit card only transactions amid the COVID-19 pandemic as a way of protecting workers from handling potentially infected cash. It is not illegal.
The claim appeared in a post (archived here) shared on Facebook on July 21, 2020. It read:
IF THEY REFUSE UR CASH THAN THE DEBT IS CLEARED AND TAKE UR ITEMS AND LEAVE STORES REFUSING U.S. LEGAL TENDER CAN NOT PERSICUIT A PERSON IF THEY REFUSED TO TAKE CASH! U.S. TREASURY LAW STATES IT IS UNLAWFUL TO REFUSE LEGAL TENDER ANY BUSINESS CAN ALSO BE REPORTED FOR REFUSING CASH AND REPRIMANDED!
This is what the post looked like on Facebook at the time of writing:
(Source: Facebook screenshot taken on Sun Aug 9 01:12:43 2020 UTC)
While some consumers are angry about the policy, it is not illegal. The Federal Reserve made it clear in a webpage titled Is it legal for a business in the United States to refuse cash as a form of payment?:
There is no federal statute mandating that a private business, a person, or an organization must accept currency or coins as payment for goods or services. Private businesses are free to develop their own policies on whether to accept cash unless there is a state law that says otherwise.

Section 31 U.S.C. 5103, entitled "Legal tender," states: "United States coins and currency [including Federal Reserve notes and circulating notes of Federal Reserve Banks and national banks] are legal tender for all debts, public charges, taxes, and dues." This statute means that all U.S. money as identified above is a valid and legal offer of payment for debts when tendered to a creditor.
Of course, every consumer also has the right to choose whether or not to patronize a business that refuses to take cash.