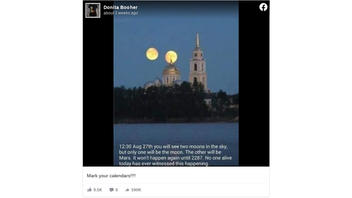 Will Mars look as big as the Moon in the night sky on August 27? No, that's not true: This is an old hoax that has circulated at least since 2003. The size of Mars would have to magnify about 140 times to match the size of a full moon. It has not ever happened and will not on any August 27.
The claim appeared in a post shared on Facebook on August 7, 2020 the text introduction "Mark your calendars!!!!" It featured an image of the night sky with two full moons, with a text that read:
12:30 Aug 27th you will see two moons in the sky, but only one will be the moon. The other will be Mars. It won't happen against until 2287. No one alive today has ever witnessed this happening.
This is what the post looked like on Facebook at the time of writing:
(Source: Facebook screenshot taken on Sun Aug 9 02:47:40 2020 UTC)
This is the purported photo of an enlarged Mars and a full Moon. Since, as the post claims, no one alive has ever seen it, how did they get a very modern color photo of it? The answer is this is photoshopped.
Sadly, we will not see this actually happen and it will not appear again in 2287. It is an old hoax, according to
Mars big as the moon on August 27?
This hoax has its roots in a real 15-year cycle of Mars, that's peaking - giving us an excellent year to observe Mars - in 2020. Although it's not true, you're likely to see the claim as an email - or on social media - that Mars will appear as large as a full moon in Earth's sky on a particular date, often August 27 of any given year. Sometimes there's a suggestion that Mars and Earth's moon will appear as a double moon. I've also seen the photo above, circulating on Facebook. And that is just not true. It's not true in 2020. It's never been true. It never will be true.
It may be some consolation to stargazers to know that the Moon and Mars will put on a good show in August, although not as spectacular as this hoax promised. Star Walk posted a story on Medium.com titled The Moon and Mars Shine Together in the Summer Sky on August 8, 2020 that reads:
Having passed the closest point to the Sun in its orbit, the perihelion, on Monday, August 3, 2020, Mars is going to join the brilliant Moon. The conjunction of the Moon and Mars will happen on Sunday, August 9, 2020, at 08:00 GMT (04:00 a.m. EDT). The Moon will meet Mars in the Pisces constellation, where the celestial bodies will shine at magnitudes of -12.1 and -1.3 respectively.
The lunar disk and Mars will be visible with the unaided eye, but you can bring a pair of binoculars to get a closer look. Gaze on the eastern part of the sky before going to sleep to witness the spectacular sight of this bright astronomical duet. The early risers should look for it in the western part of the sky at dawn when both celestial bodies will reach their high point in the sky.