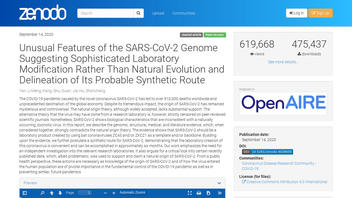 Did a scientific study prove the Chinese government cooked up the novel coronavirus and loosed it on the world? No, that's not true: The claim is made in a self-published article produced by doctors who identify themselves as part of a political organization that specializes in embarrassing the Chinese Communist Party, is run by a man facing mail fraud charges in the U.S and is funded by a billionaire who fled China to avoid corruption charges.
The claim appears in an article (archived here) posted Sept. 14, 2020, by Dr. Li-Meng Yan on Zenodo, an un-edited, unregulated online data storage site. Titled "Unusual Features of the SARS-CoV-2 Genome Suggesting Sophisticated Laboratory Modification Rather Than Natural Evolution and Delineation of Its Probable Synthetic Route," it opened:
The COVID-19 pandemic caused by the novel coronavirus SARS-CoV-2 has led to over 910,000 deaths worldwide and unprecedented decimation of the global economy.
Users on social media only saw this title, description and thumbnail:
Although several right-leaning political commentators have touted the scientific credentials of the lead author, Dr. Li-Meng Yan, the article does not qualify as a scientific paper in several ways: It's not peer-reviewed, it's the product of a political organization rather than a science organization, some of the footnotes link to virology claims by writers without virology or immunology expertise, and some of the literature cited in support of Yan's theory is political writing by non-scientists.
Other fact-check services have also quoted immunologists and virologists who say Yan's conclusions are incorrect or based on anecdotal evidence rather than careful lab work.
The article has not passed through expert review
Yan's article was not previewed by expert editors and scientific peers. Instead, the article was uploaded to Zenodo, an unregulated online storage site set up by scientists. Zenodo's "About Us" page explains its purpose as follows: "To ensure no one is left behind through lack of access to the necessary tools and resources, Zenodo makes the sharing, curation and publication of data and software a reality for all researchers." Lead Stories reached out to Zenodo on Sept. 17, 2020, to confirm that Yan's paper was uploaded without prior review and will update this article, if appropriate, when a Zenodo representative replies.
As the National Institutes of Health explains on its website, reputable medical and scientific journalists insist articles are reviewed by expert colleagues to ensure valid methods were used and that scientists are making significant and original conclusions. Peer reviewers are also helpful in spotting errors before publication.
Yan claims, in her article, that alternate theories have been censored, but the scientific journal Nature Medicine on March 17, 2020, gave global attention to the theory, publishing a paper by five scientists who looked for evidence that SARS-CoV-2 was made in a lab.
Lead Stories reached out to Yan on Sept. 16, 2020, for a list of reputable science journals that have refused publication of her article and will revise this report with that list, if appropriate, when Yan replies.
The authors are working in a political organization
The lead author and the three subordinate authors list on the cover page their affiliation as The Rule of Law Society. Founded and funded by fugitive Chinese billionaire Guo Wengui, also known as Miles Guo, the Rule of Law Society's mission statement is: "To expose corruption, obstruction, illegality, brutality, false imprisonment, excessive sentencing, harassment, and inhumanity pervasive in the political, legal, business and financial systems of China."
Miles Guo fled China in 2014, facing charges of corruption that he disputes. Former Donald Trump campaign manager and White House chief strategist Steve Bannon lists himself as chairman of the Rule of Law Society. In August 2020, Bannon was arrested disembarking from Guo's yacht and was charged with conspiracy to commit mail fraud and money laundering through the We Build The Wall campaign.
Neither Guo nor Bannon have a science background. Yan earned her medical degree at XiangYa Medical College of Central South University (China) and got her Ph.D. from Southern Medical University (China). In reaching out to her, Lead Stories asked Yan to confirm the credentials of her three co-authors, whose education and experience could not be readily established through customary online searches.
The article rests, in part, on a non-peer-reviewed article by an obscure author
Although the footnotes of Yan's article do cite peer-reviewed research that went through the standard science publishing process, there are also footnotes citing articles, offered as scientific, that appear to have been uploaded to "open science" sites by people without science training.
Yan and her co-authors write: "...substantial evidence has accumulated, pointing to severe problems associated with the reported sequence of RaTG13 as well as questioning the actual existence of this bat virus in nature."
Their footnote (#7) in support of that statement cites an article whose author, Dean Bengston, provides no scientific credentials or affiliation. His article "All Journal Articles Evaluating The Origin Or Epidemiology of SARS-CoV-2 That Utilize The RaTG13 Bat Strain Genomics Are Potentially Flawed And Should Be Retracted," was not published by any journal.
It was, like Yan's, uploaded to an unregulated website called OSF, which is a data-sharing online storage center operated by the Open Science Foundation, which offers a variety of tools and services to assist in the research process, but does not appear to review the merit of items uploaded.
To test the restrictions at OSF, Lead Stories created an uploading account and it appears could now place documents there and claim "publication" as Yan and Bengston have done.
Lead Stories reached out to Bengston via the email address provided. This report will be updated, as appropriate, when Bengston replies. A nonprofit organization called ORCID (Open Researcher and Contributor ID) offers unique alpha-numeric codes to scientists so that they can distinguish their publications from those of people with similar names. In Bengston's ORCID file, he lists his affiliation as "CEO (Peer Review)" at Meandering Path, Las Vegas, Nevada. A search of Nevada's registry of business/organization names returns no listing for Dean Bengston as a corporate officer or Meandering Path as a registered entity. An online search for Bengston as author of any other virology or epidemiology papers turned up nothing.
The article rests, in part, on opinion journalism
Footnotes #11 and #22 cite a news article with no byline or author listed, from the website of an activist organization opposed to genetically modified food organisms
Footnote #23 cites a post on nerdhaspower.weebly.co, which was a dead URL on Sept. 17, 2020, at 22:32 UTC.
Other than to provide artifacts of mass culture, scientific journal articles rarely cite inexpert journalism.
Lead Stories has reached out to multiple immunologists and virologists to get expert opinion on the analysis and conclusions in Yan's article. This report will be updated, as appropriate, when replies come in from scientists from University of Washington, the University of Minnesota, the U.S. Centers for Disease Control and Prevention and the State of Hawaii's Epidemiologist and Chief of the Disease Outbreak Control Division.
Newsweek Magazine's fact-checkers contacted four university-based experts in immunology and virology, all of whom said Yan's paper does not have the evidence it claims or misstates the science in making its key claims.