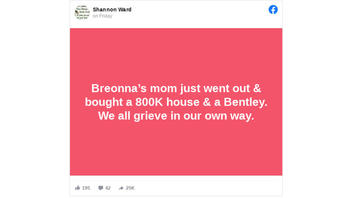 Did Breonna Taylor's mother buy herself a Bentley and an $800,000 home with her share of the $12 million Louisville paid to settle her wrongful death claim? No, that's not true: The City of Louisville had not, as of Sept. 29, 2020, paid out the settlement and no nearby Bentley dealer reported any sales of the luxury automobile into Kentucky since the settlement was announced. A Taylor family lawyer also told Lead Stories the claim is false.
The claim originated in a meme posted on Facebook September 27, 2020, (archived here) by a Facebook page named "Shannon Ward." It read:
Breonna's Mom just went out & bought a $800k house & a Bentley. We all grieve in our own way.
This is what the post looked like on Facebook at the time of writing:
(Source: Facebook screenshot taken on Tue Sep 29 17:55:18 2020 UTC)
Sam Aguiar, whose law firm represents Breonna Taylor's family, said in a Sept. 29, 2020, email to Lead Stories that the claim is not true:
False. Settlement funds haven't even been paid."
The mayor of Louisville announced Sept. 15, 2020, the city would pay $12 million to settle the wrongful death claim filed after three Louisville Police officers used a no-knock search warrant to crash into Taylor's apartment in a botched drug raid. Taylor's boyfriend says he thought they were intruders and shot one of the officers. Taylor was killed when the officers returned fire. The search of the apartment did not yield drugs or the man police were seeking.
Lead Stories called all the Bentley dealerships (Downers Grove, Illinois; Nashville, Tennessee; Columbus, Ohio; Cleveland, Ohio) within a three-hour drive of Louisville. Sales staff at each reported they have sold no new or used Bentleys into Kentucky in recent months. Bentley owners rarely make a direct sale to a new owner, sales managers at the dealerships said, so any Bentley sale was likely to go through them.
Jefferson County, Kentucky, property records show no recent purchases by Tamika Wallace.
Lead Stories reached out to the Louisville mayor's office and Louisville's city finance department to confirm Aguiar's statement and will update this report, if appropriate, when they respond.